You could be leaving a testimonial for Eternal Beauty following your training - why not give us a call today to see how we can help you with your new career - or even progressing your existing one.
Give us a call on
or visit our Training section today
Don't hesitate to see how we can help you
Really enjoyed our training course with Ben. Very knowledgeable and his passion of piercing shined through the course.
Very confident to proceed and capable to piercing areas with confidence. Would 100% recommend.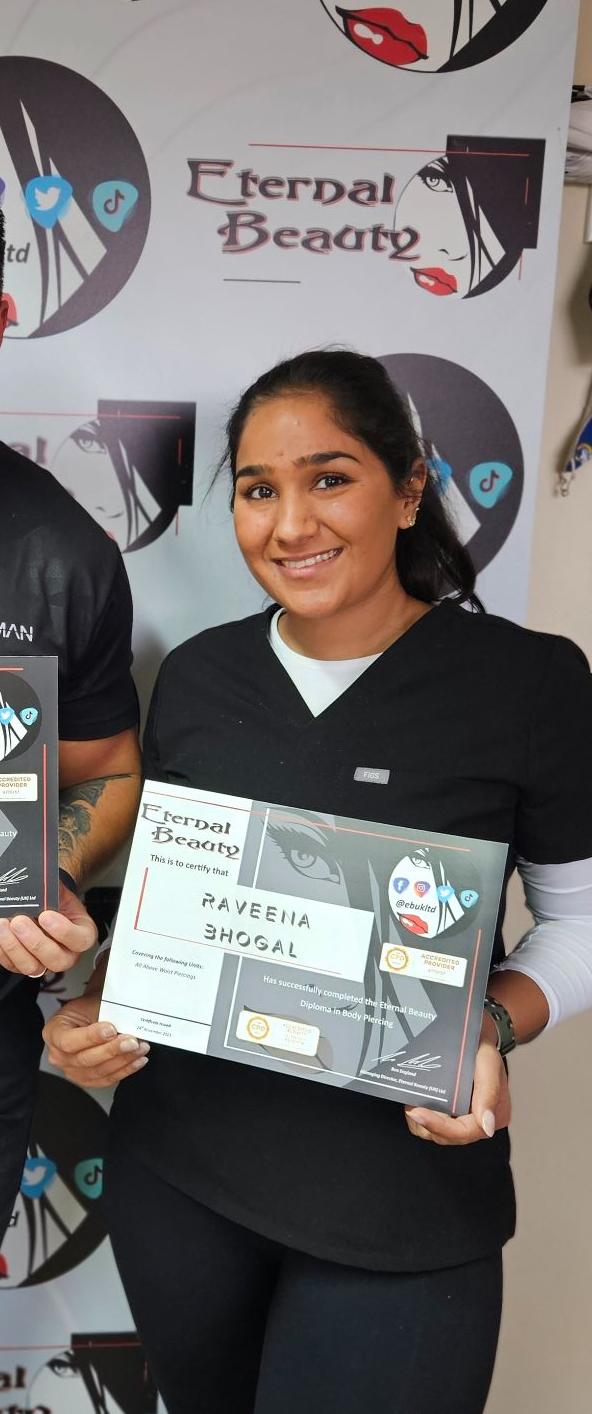 Website: www.ellamarieaesthetics.co.uk
Facebook: E.M Aesthetics
Instagram:emaesthetics_rklasers
I recently did the Online Dermaplanning course with Eternal Beauty, the course was a easy to understand and i loved that it was all onine.
the customer service i couldnt fault! if i had any questions they helped almost instantly and no question was too much trouble.
Amazing course thankyou, i will definatly be back for more training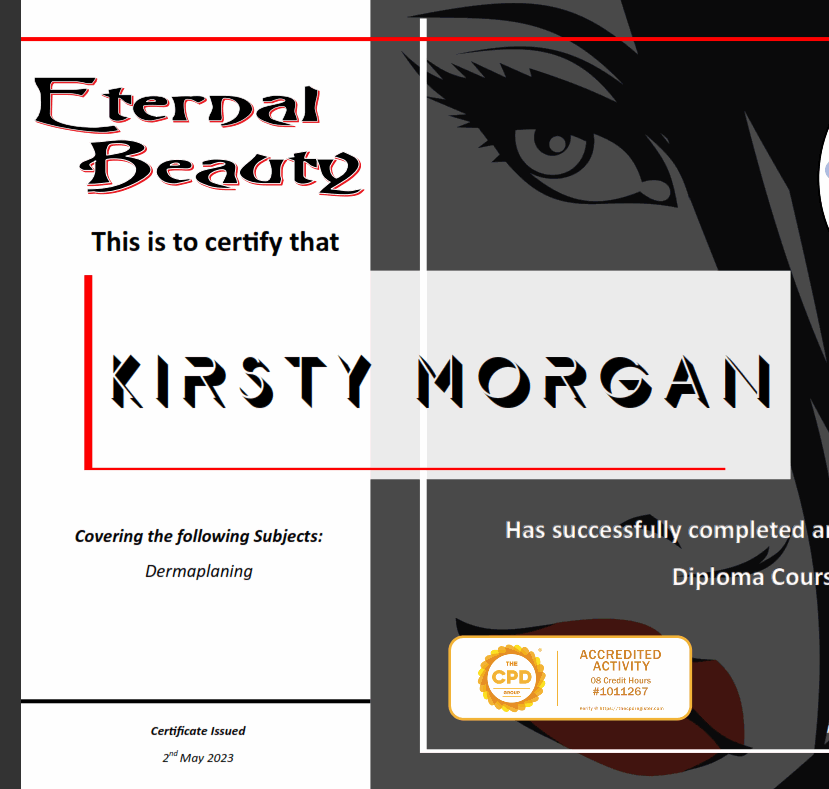 Online Dermaplaning Course
Thank you so much to the eternal beauty team for helping me through my online scalp Micropigmentation course.
The course was through and the tutors were very attentive and helpful!
Thank you so much, I am so glad I chose you guys!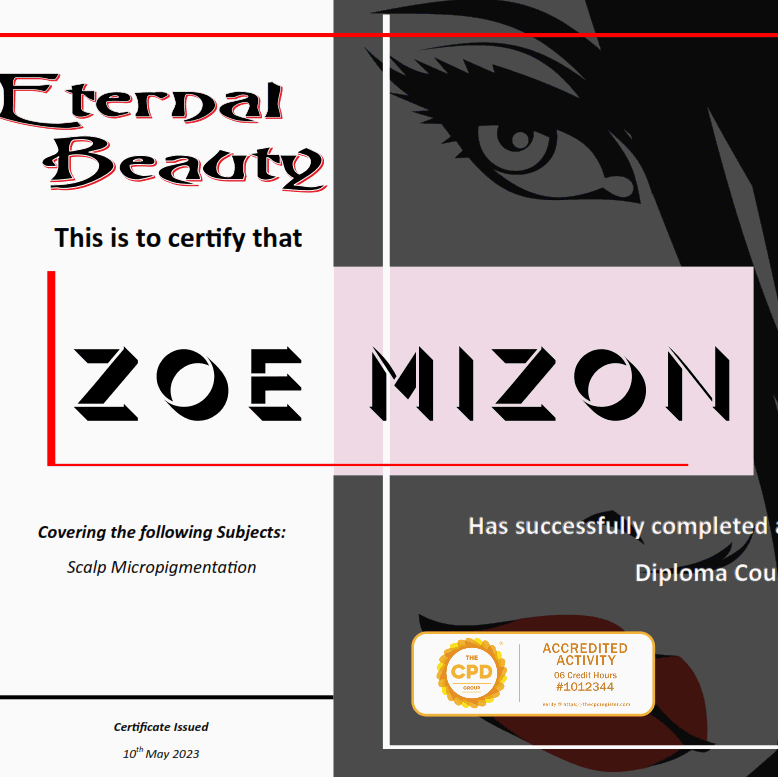 Online Scalp Micropigmentation Course
Www.Zoemizon.co.uk
Facebook: @Zoemizonsalon
Instagram: @Zoemizonsalon
My over all experienced as a student piercer for 3 days was fun and being taught by you made me confident in my new skills. it has been great and im honor to be one of your student.
Thank you for being such an amazing teacher.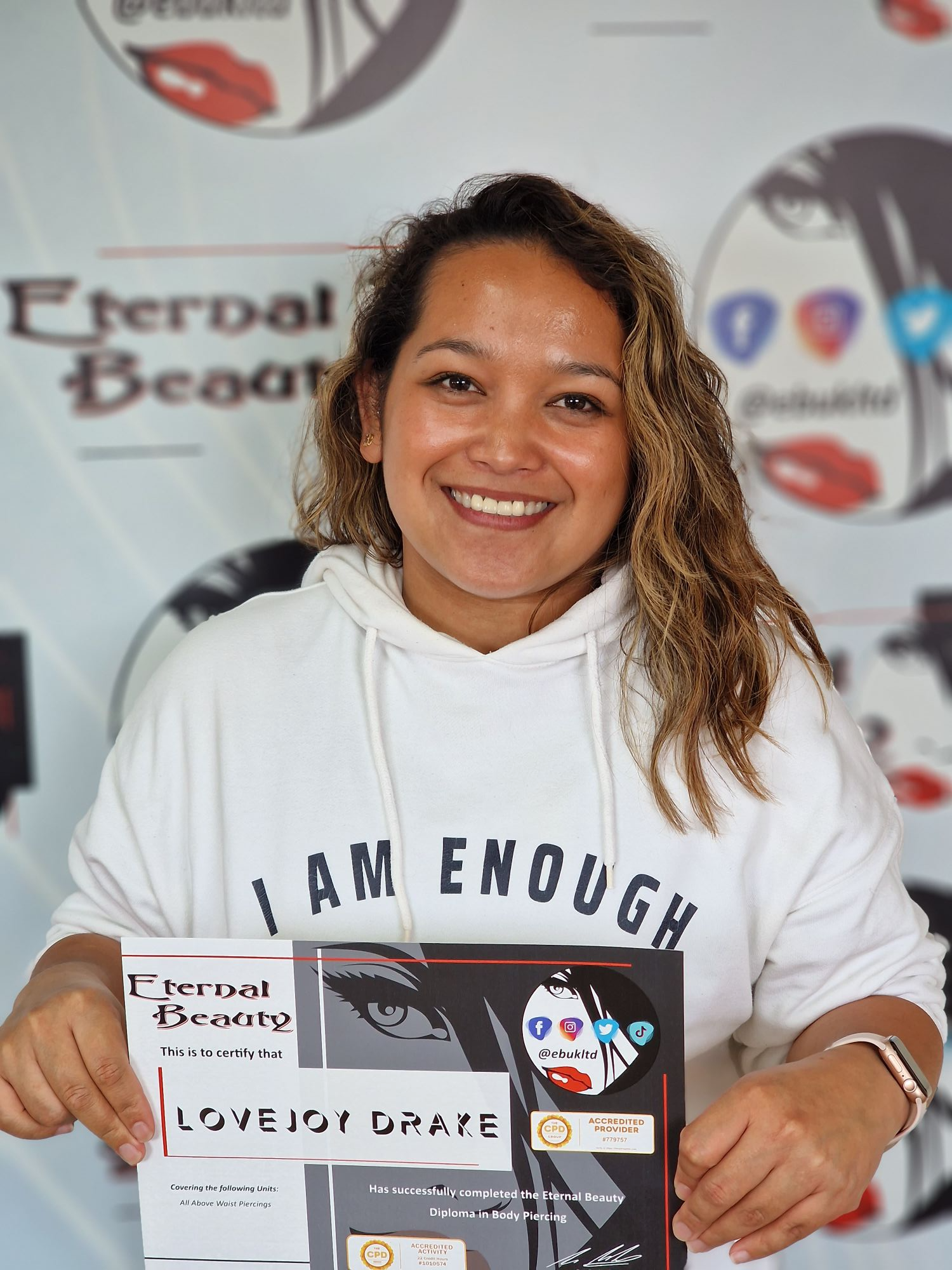 I did the 4 day Body Piercing & Dermal Anchor course, Ben was awesome and patient which is so important learning this kind of thing, I would recommend to anyone and the follow up support offered is fantastic
The practical day meeting the models to practice on was great really helped the learning.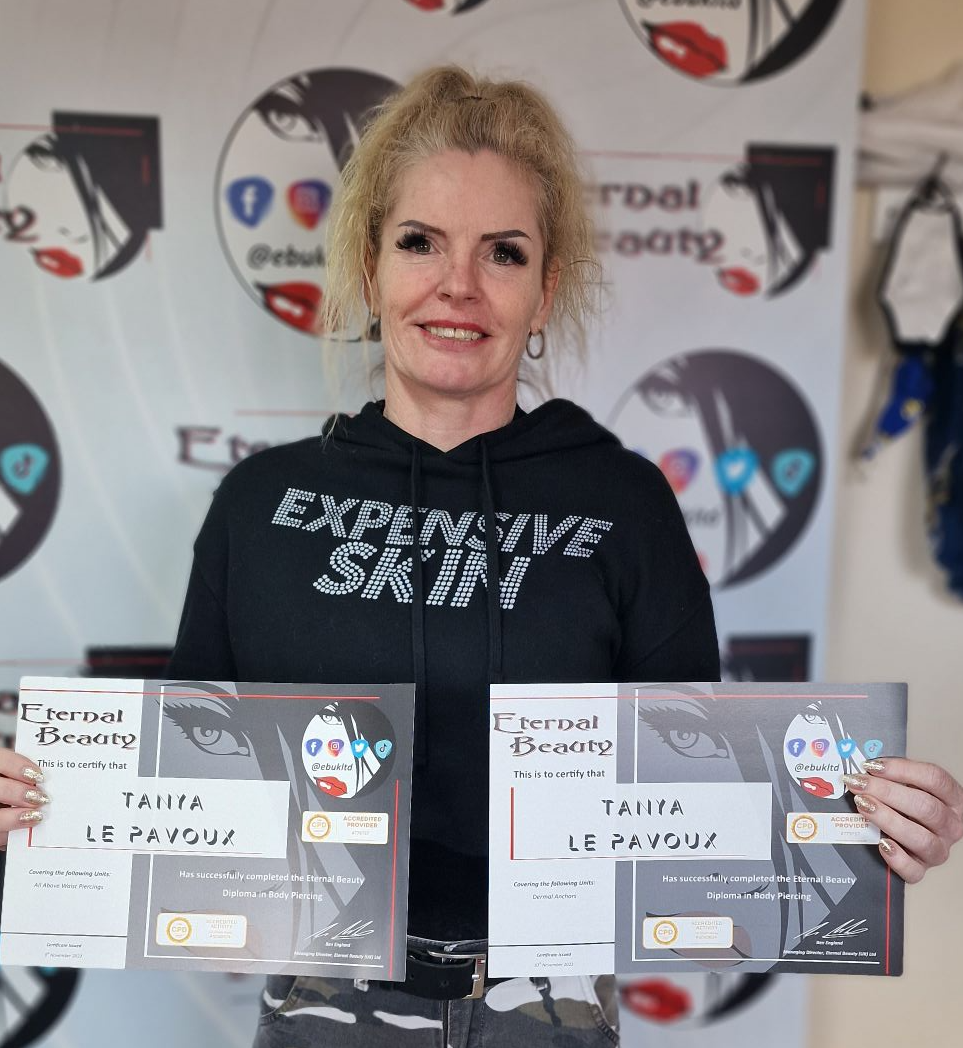 I absolutely loved doing this course it's so easy and I had the best of help along the way.
I would recommend doing this course 100% it has all the details and instructions you need to start doing Russian lashes. Thank you so much eternal beauty for this amazing opportunity x❤️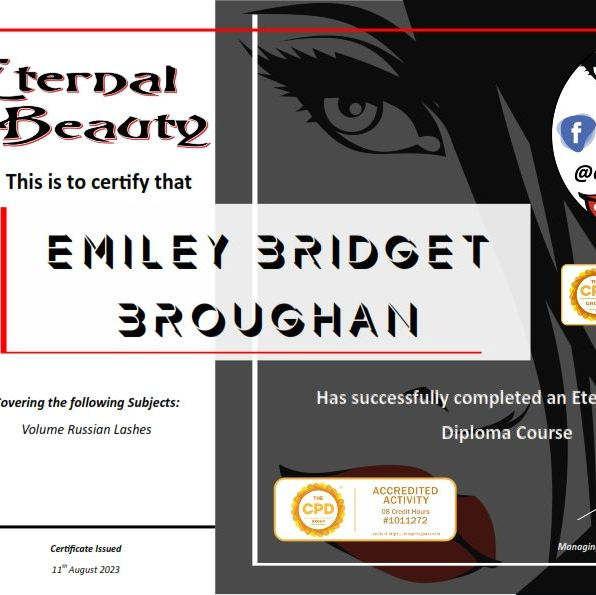 Online Russian Lashes Course
Facebook: @LashesbyEmiley
Instagram: @Lashesbyemiley
"The studio is really smart, clean and tidy.
Hygiene is definitely well kept.
I loved the pace of the course. The atmosphere was really conducive to learn as much as possible. Ben was extremely knowledgeable with the experience to back it up. which really helped build rapport."
I loved that Ben was able to ease my worries and nervousness and I felt confident that I could do my best with him to support me.
Ben covered everything that needed to be covered but also tailored the course to ensure that I was prepared for my personal piercing journey. I have left the course with a positive outlook and a confidence that I didn't expect to have. With Ben's guidance, I look forward to continuing my piercing journey.
Ben (and Emma) were so caring and reassuring. They knew I was nervous and did everything they could to ease my nerves. I went from being a nervous wreck to actually enjoying myself!
I booked my training with Eternal Beauty because of Emma's quick and detailed replies to my enquires and the One to one teaching and lots of hands on experience.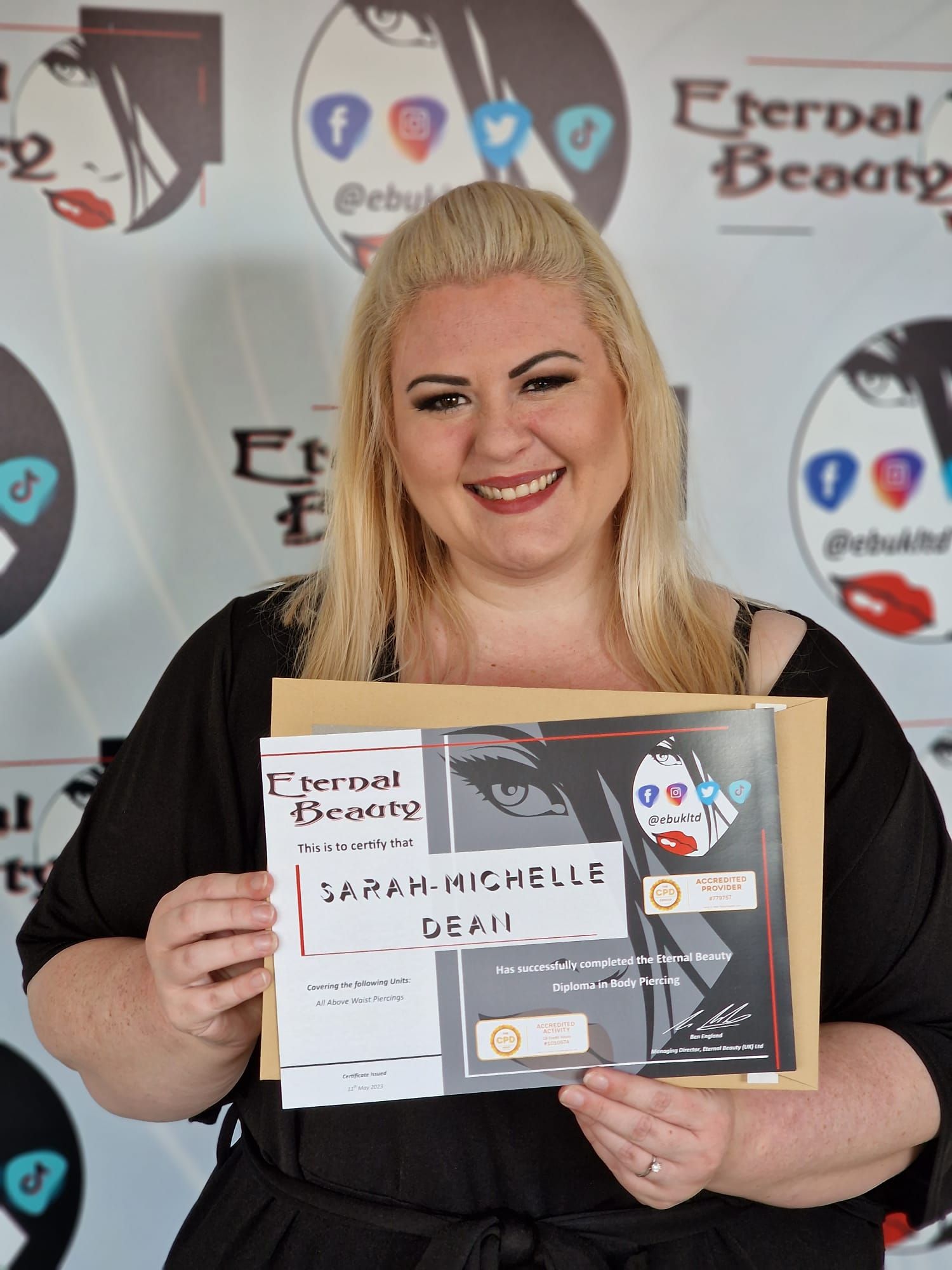 I am so happy I chose to go with eternal beauty for my online training. I absolutely loved every minute of it.
It was very easy to understand and help is only a message away with a very fast response.
I will definitely be back to do some more online courses in future.
I can't thank you enough for all the support and clear instructions you gave me making it so easy to carry out lip Pmu. If you are thinking about doing a course with this company I 100% recommend them.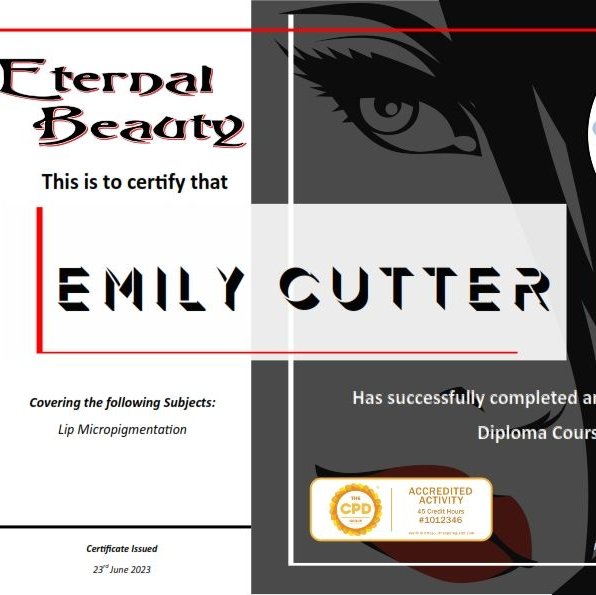 Online Lip Micropigmentation Course
Ben made me feel very at ease on my course,he gave good clear instructions and I felt comfortable asking him any questions that I had whilst completing my training.
I am so pleased that I took the course, Ben and Emma made me feel very welcome.
I was totally happy with how the course was ran.
Ben was excellent,very professional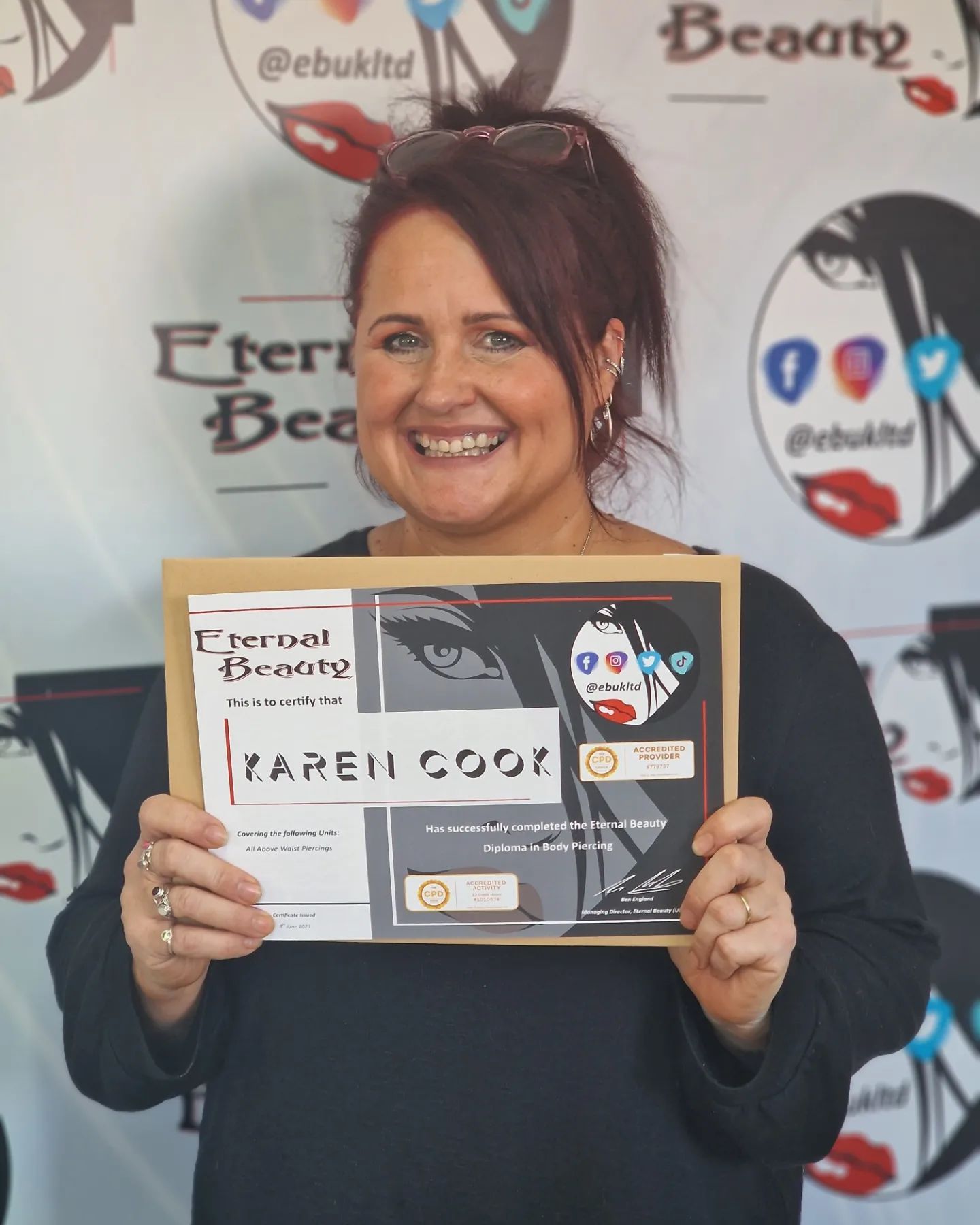 I really enjoyed that the course was one to one so i was able to ask as many questions as i liked and got a thorough explanation of the answer
Ben has a very extensive knowledge on piercing which he is very happy to pass on to his students.
He has also been very helpful since i completed my course in helping me to get set up with all of the needed equipment.
It was a great course and Ben explains everything in such high detail and makes you feel comfortable and confident in doing the piercing and completing the course.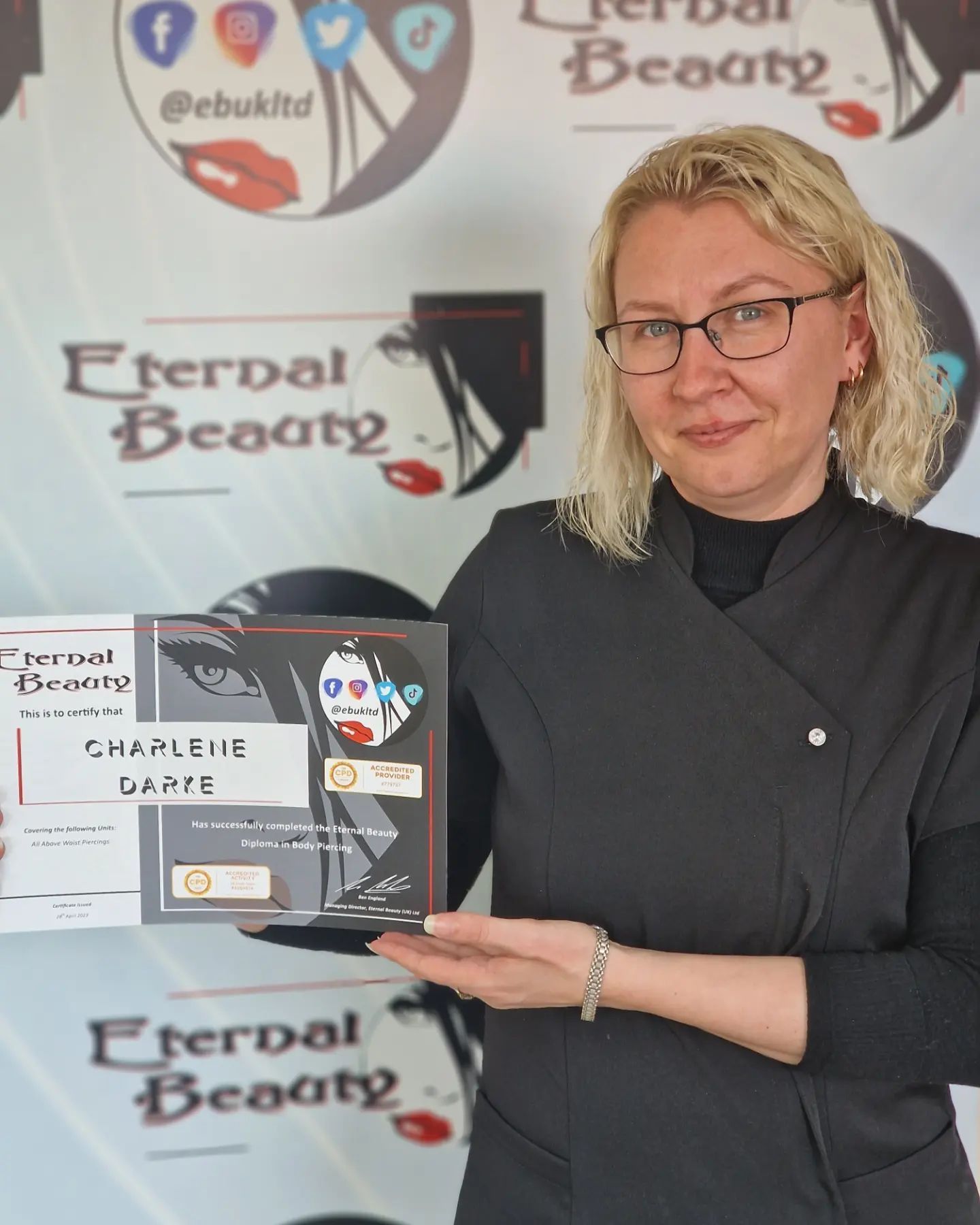 I just completed the Online Microblading and Online Lip Training Courses they had clear instructions and i had support from the team at Eternal Beauty.
There was plenty of time allowed to complete all the phases and reassurance was provided.
I did the in person model days with Emma , she was so patient and reassuring.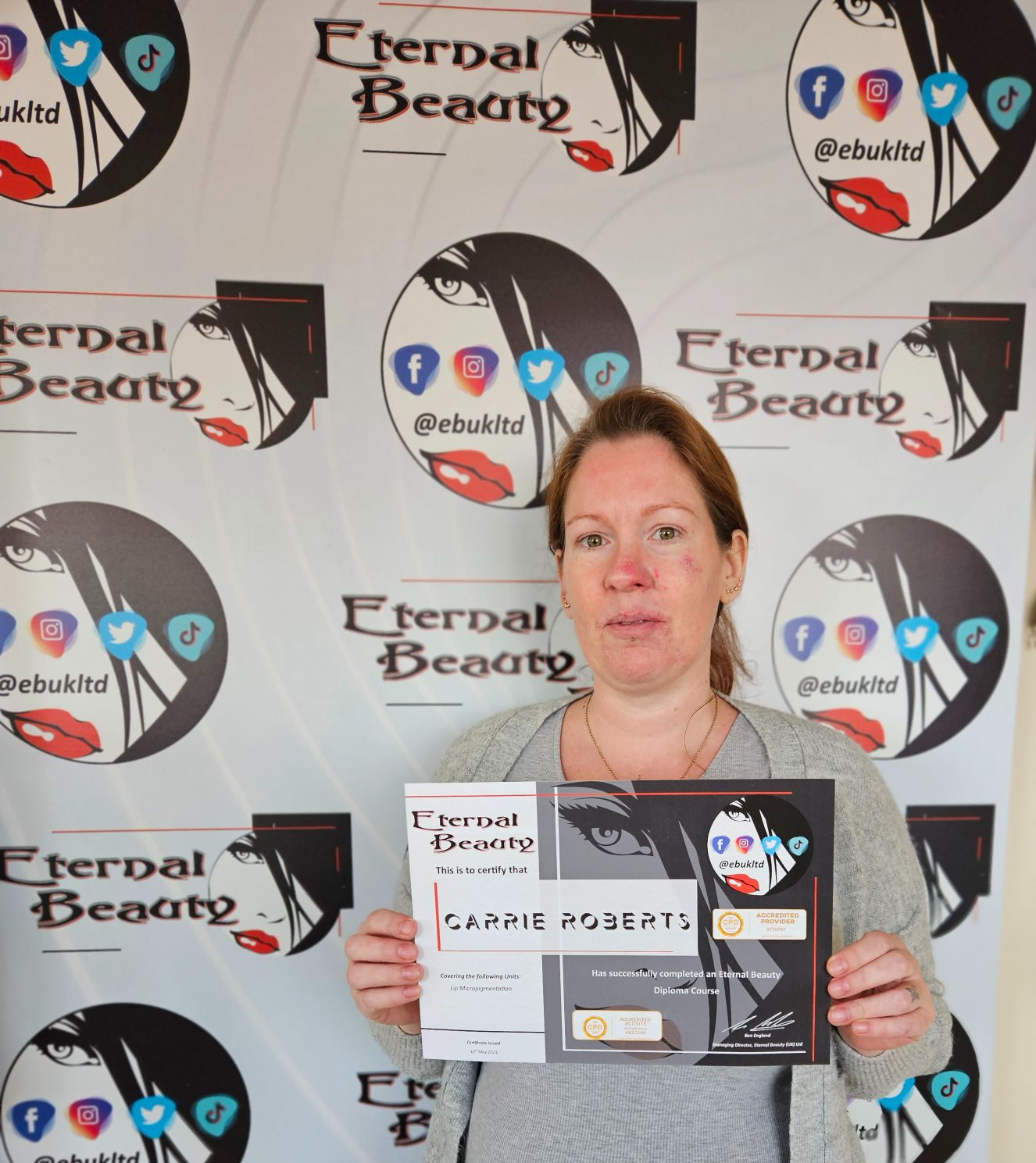 I enjoyed watching some piercings and actually having a go myself .I feel i learn more by getting stuck in and having a go myself with the help of my tutor Ben.
Ben was very helpful and very supportive.
I booked the course because of the good reputation it has and i Just want to say thank you i've thoroughly enjoyed my course.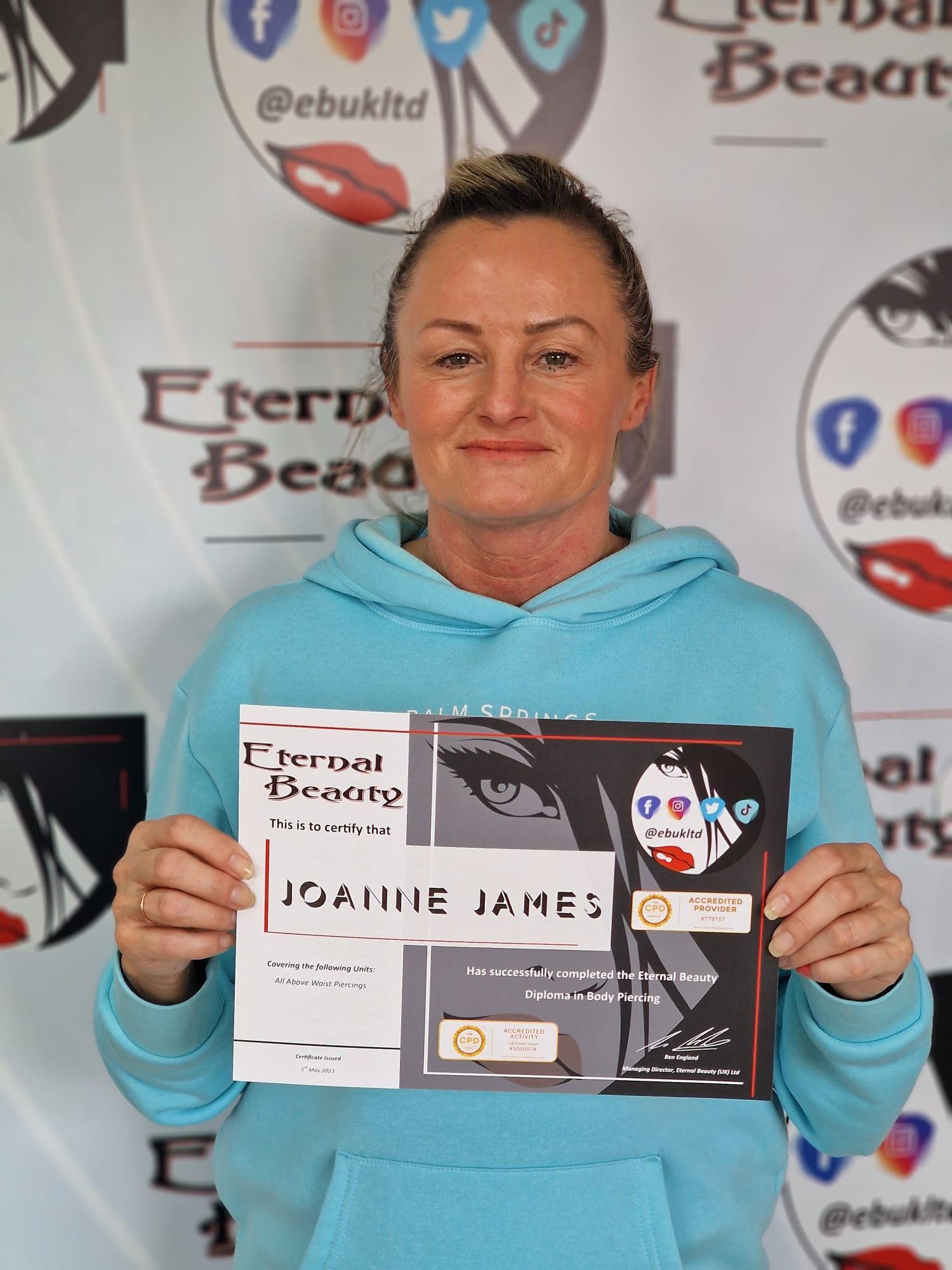 I just completed the Body Piercing Course and I absolutely loved the course.
Ben was lovely, I was super nervous on the piercing day and he really helped to calm me down and focus on the models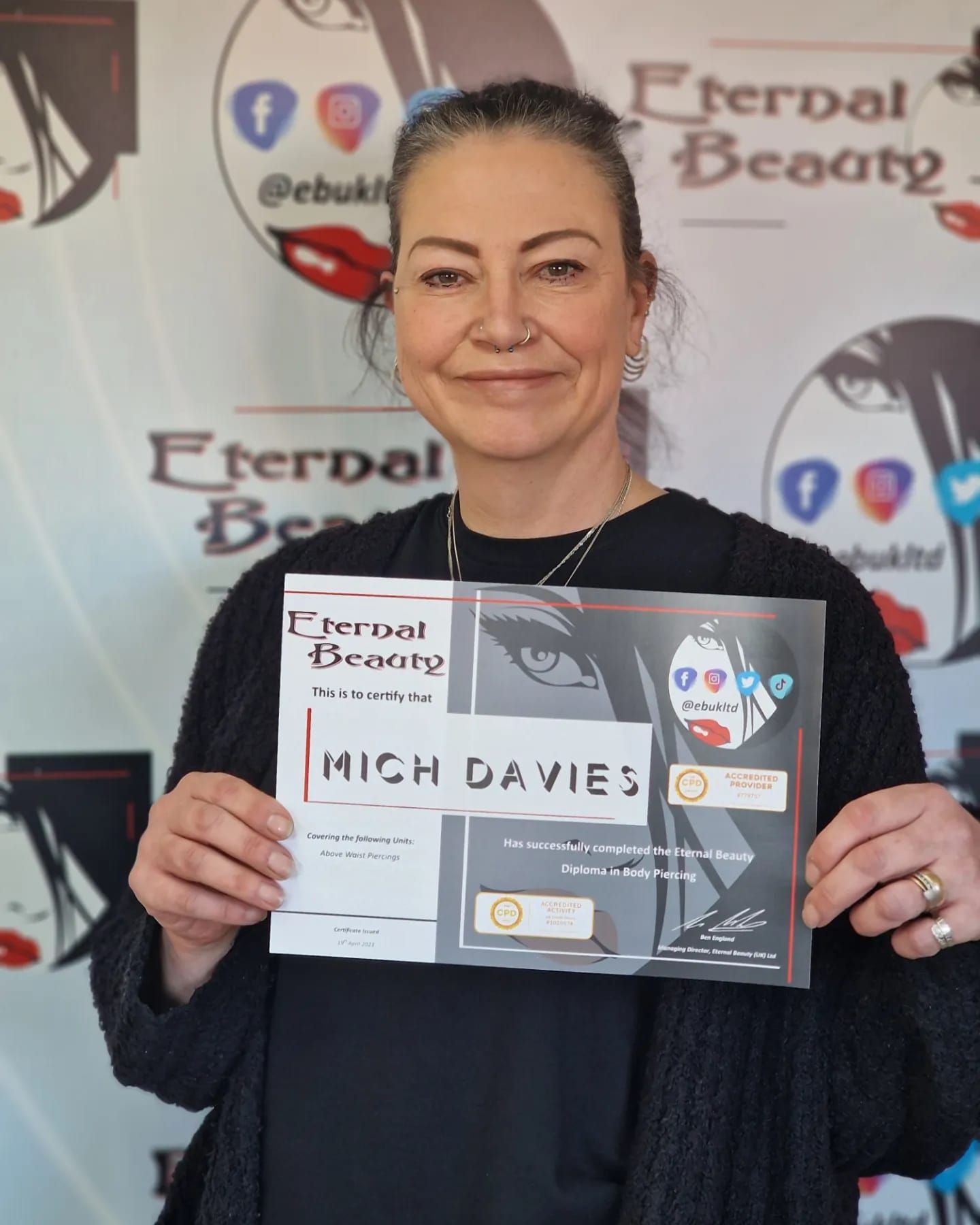 I loved the practical part of the training course.
Ben was really clear and helped me undersatnd what needed to be done.very polite
After calling to enquire about the Training I felt comfortable with the lady (Emma) who answered the call, she was very polite and answered all my questions.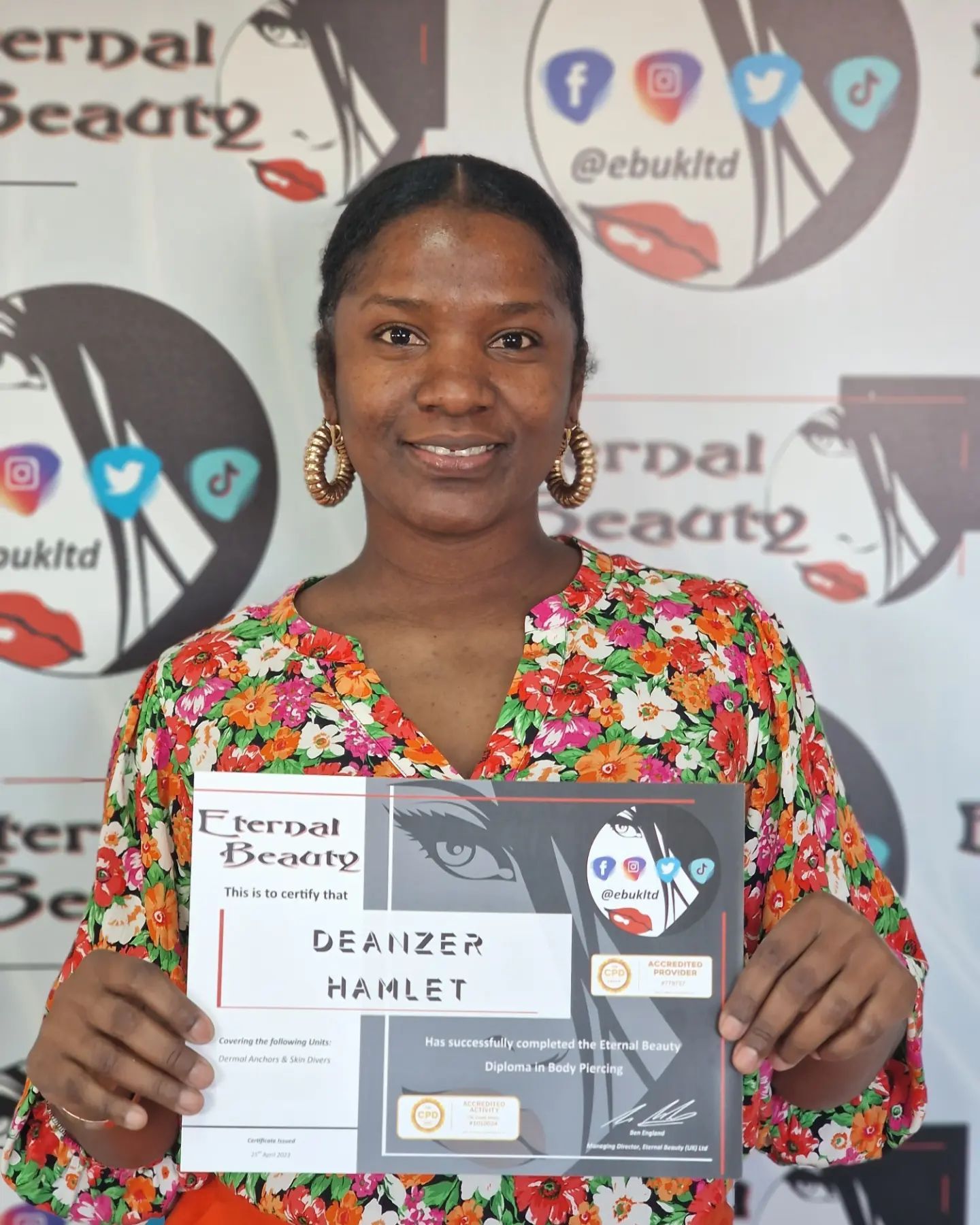 I recently completed a body piercing course with Eternal Beauty.
Ben was super supportive throughout my course and he and his wife Emma made me feel welcome everyday.
Before my day started, Ben would explain to me what we would be doing that day then ask if I had any questions about the day before.
I feel that it's so important that the environment during a course is a comfortable and supportive one and Ben delivered all this and more! All the information was clear and I was often encouraged to ask any questions if I didn't understand something.
By the time I had my live model day, I felt confident that I would be supported throughout which allowed me to do the best job that I was able with the knowledge I learned in previous days.
Ben and Emma are both truly lovely people, I was always made to feel welcome each day I was with them! If you are thinking about pursuing a piercing course then Eternal Beauty is for you!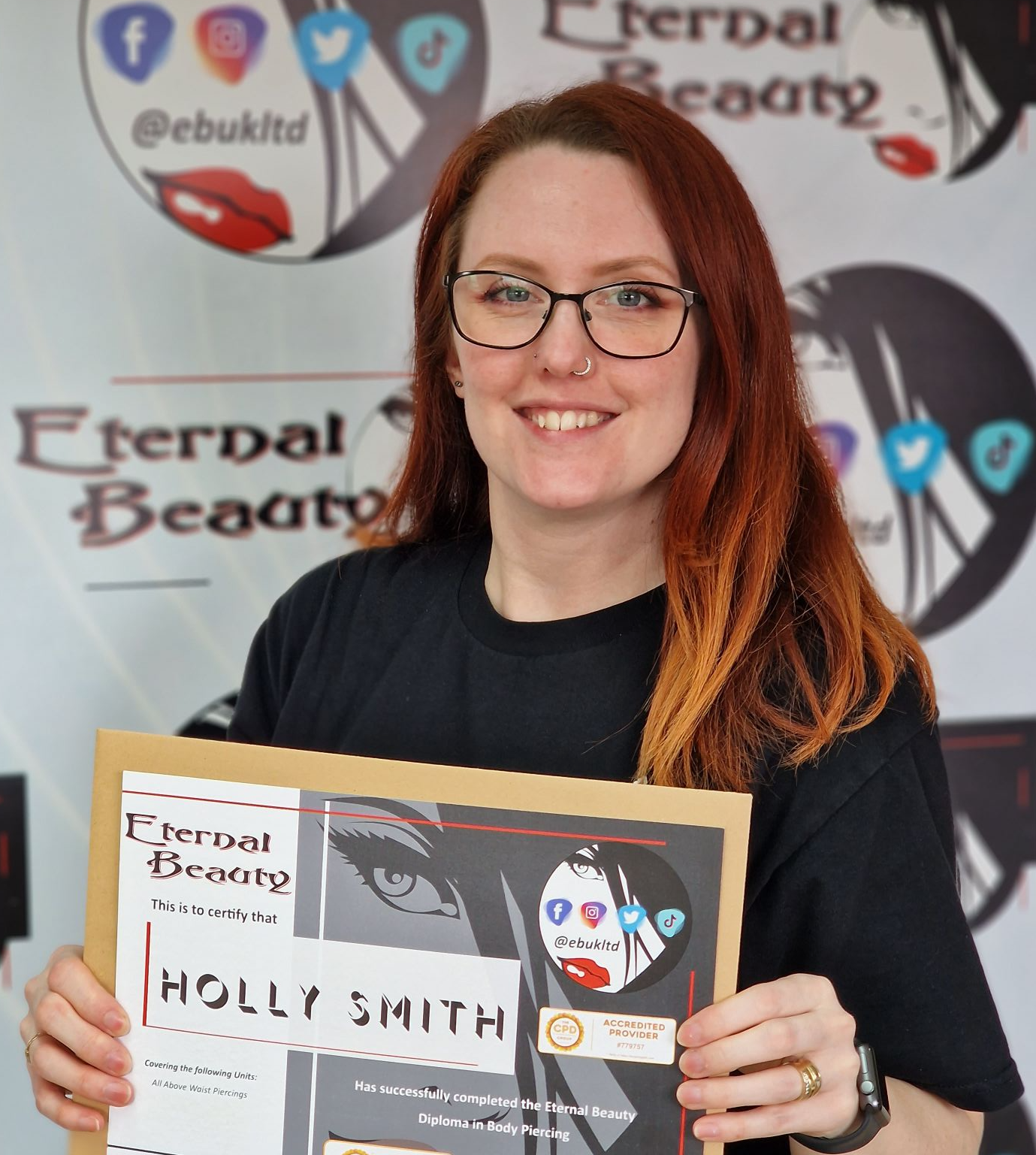 Ben and Emma made me feel so welcome during the course.
They are the most incredible people that actually care about you, the student, I can't wait to go back to learn more.
Ben made me feel so comfortable to ask him any questions no matter how silly I thought they were. He explained everything well and helped with my confidence.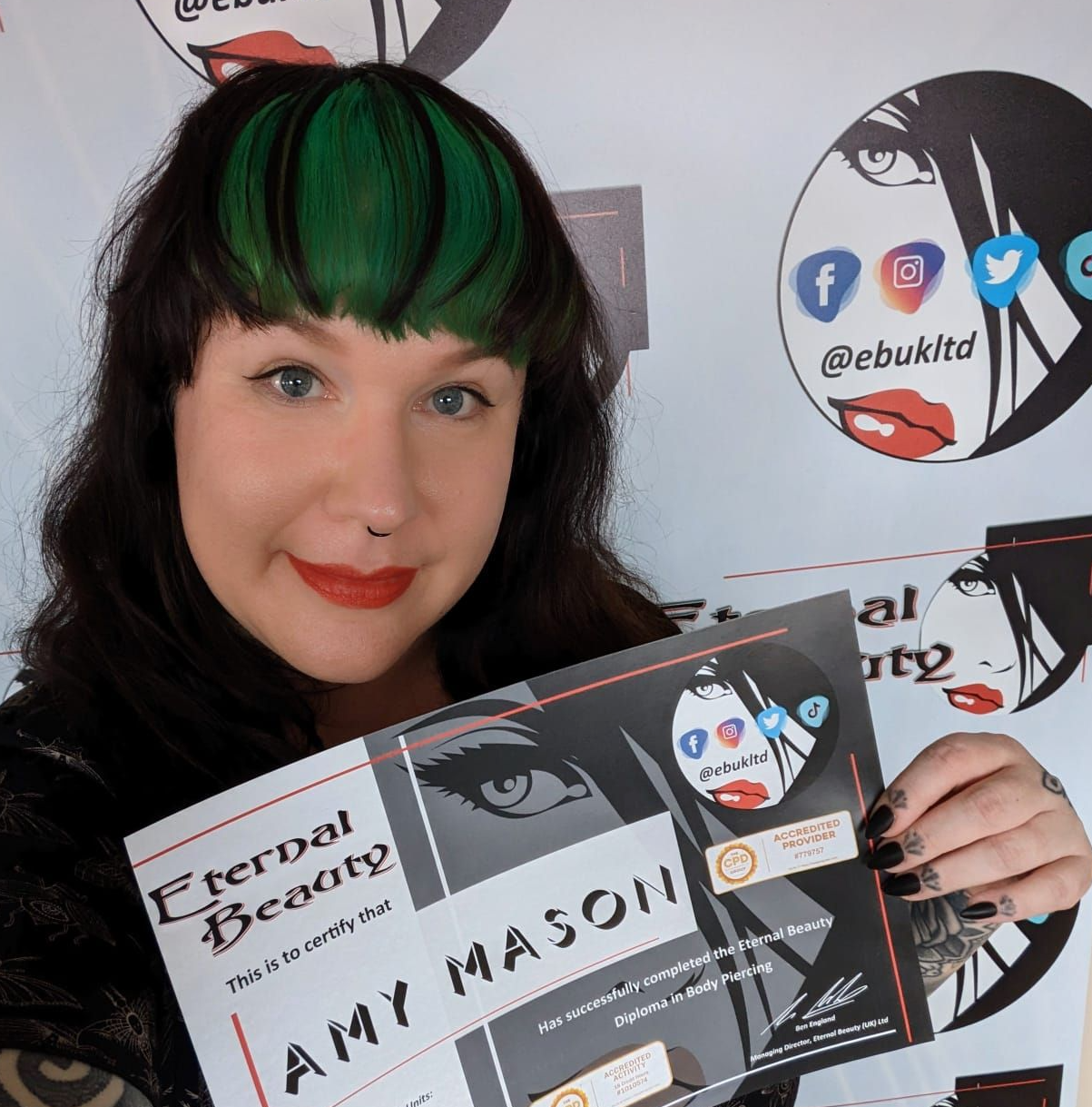 Very good teacher, would recommend, friendly.
It was appealing to me because of the 1-1 learning aspect.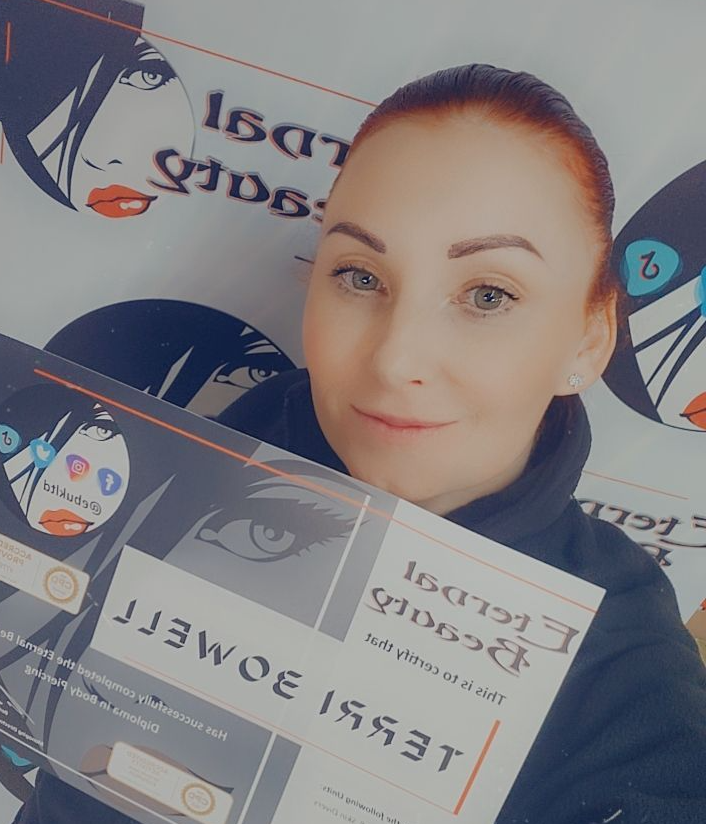 It was really great to have an instructor that obviously really loves what they do and talks with such a huge knowledge and respect for their craft!
A real pleasure to meet Ben and learn from him. Thank you for answering all my questions and encouraging me to ask questions!
They had great communication from the beginning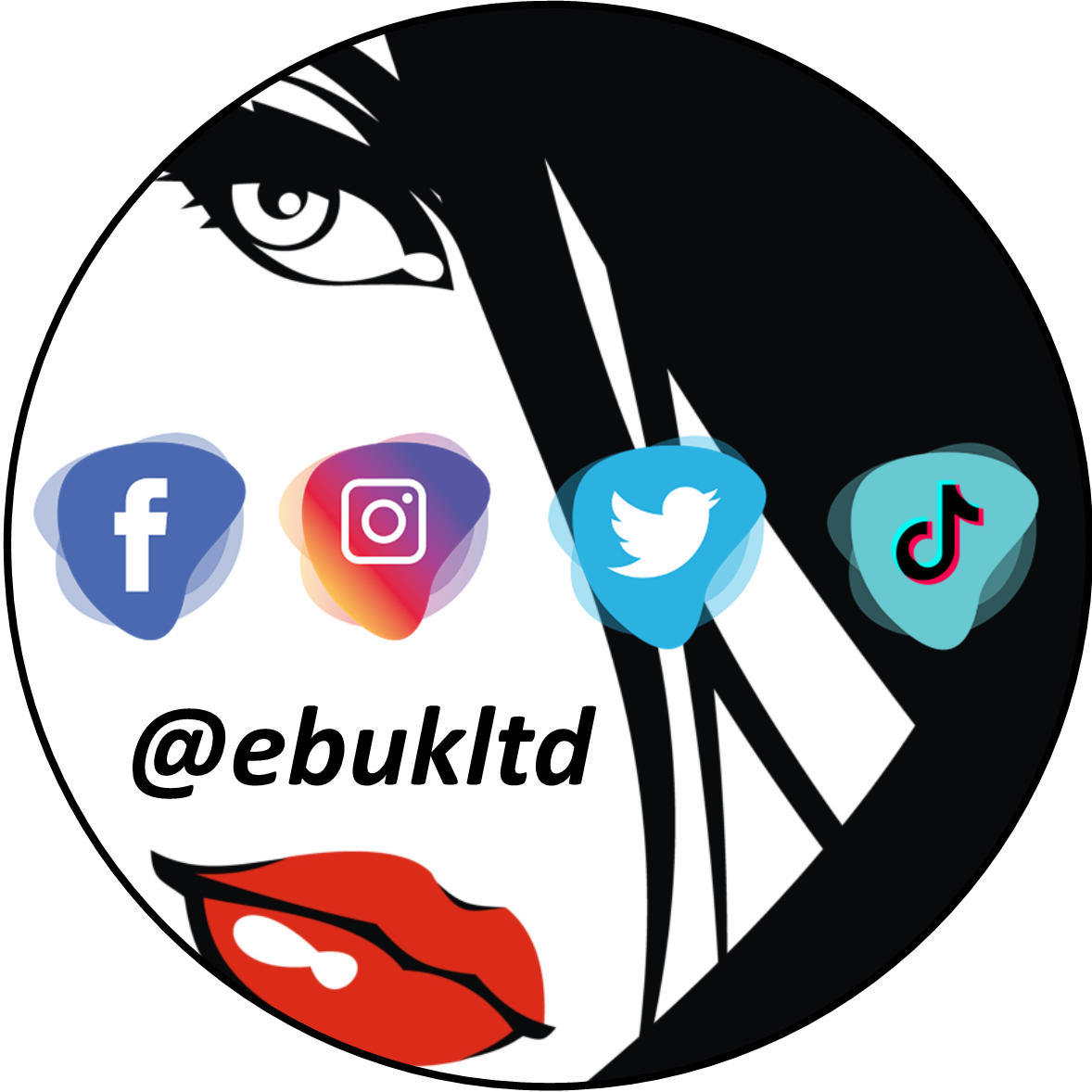 loved it so much, felt very at ease with Emma and left feeling very proud of my work.
Ben was great also.
Overall would recommend to anyone. Hoping to come back and do more!! amazing experience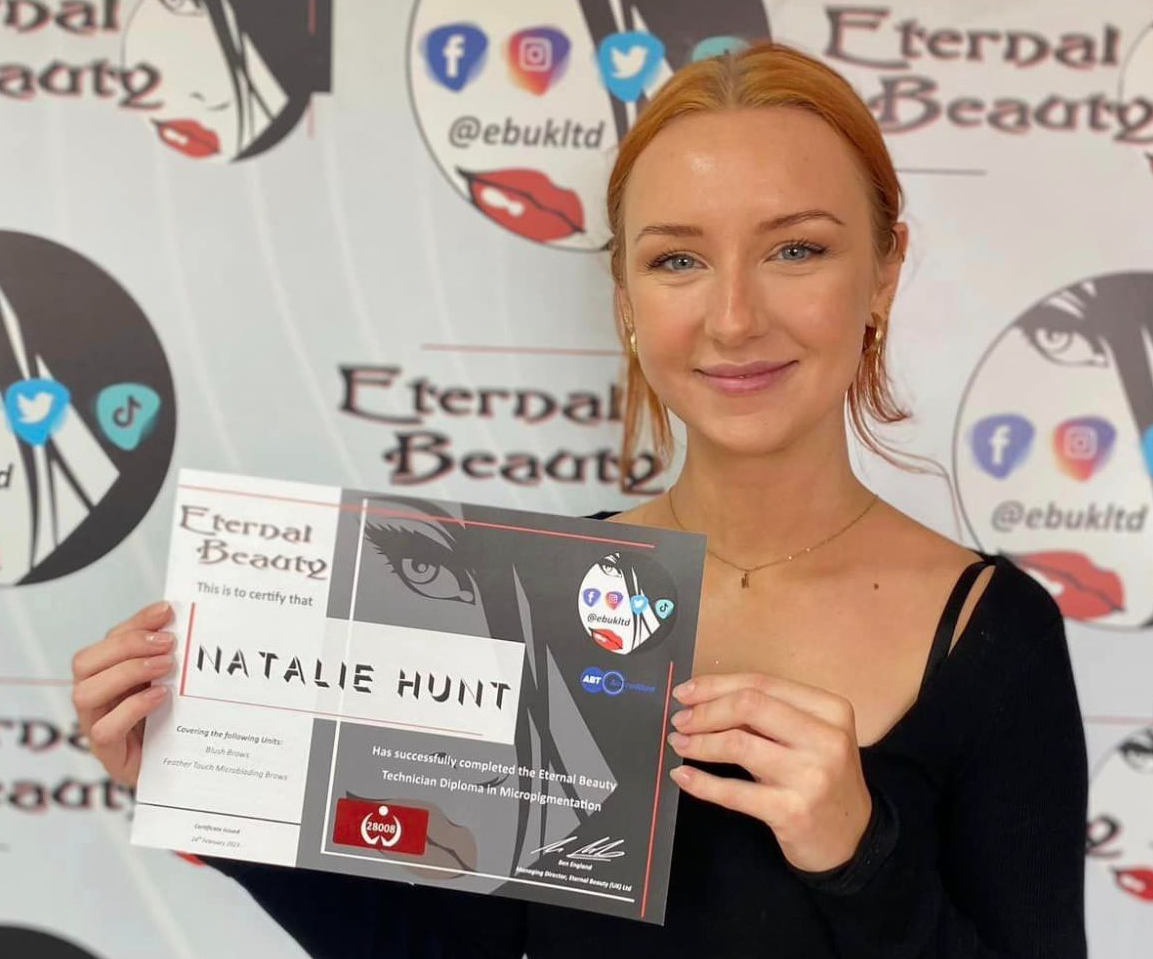 Crewkerne
Instagram: @nh.microblading
very highly recommended, lots of knowledge .
lots of people in for peircings just how it should be . Plenty of practical work.
lovely people both of you i will be back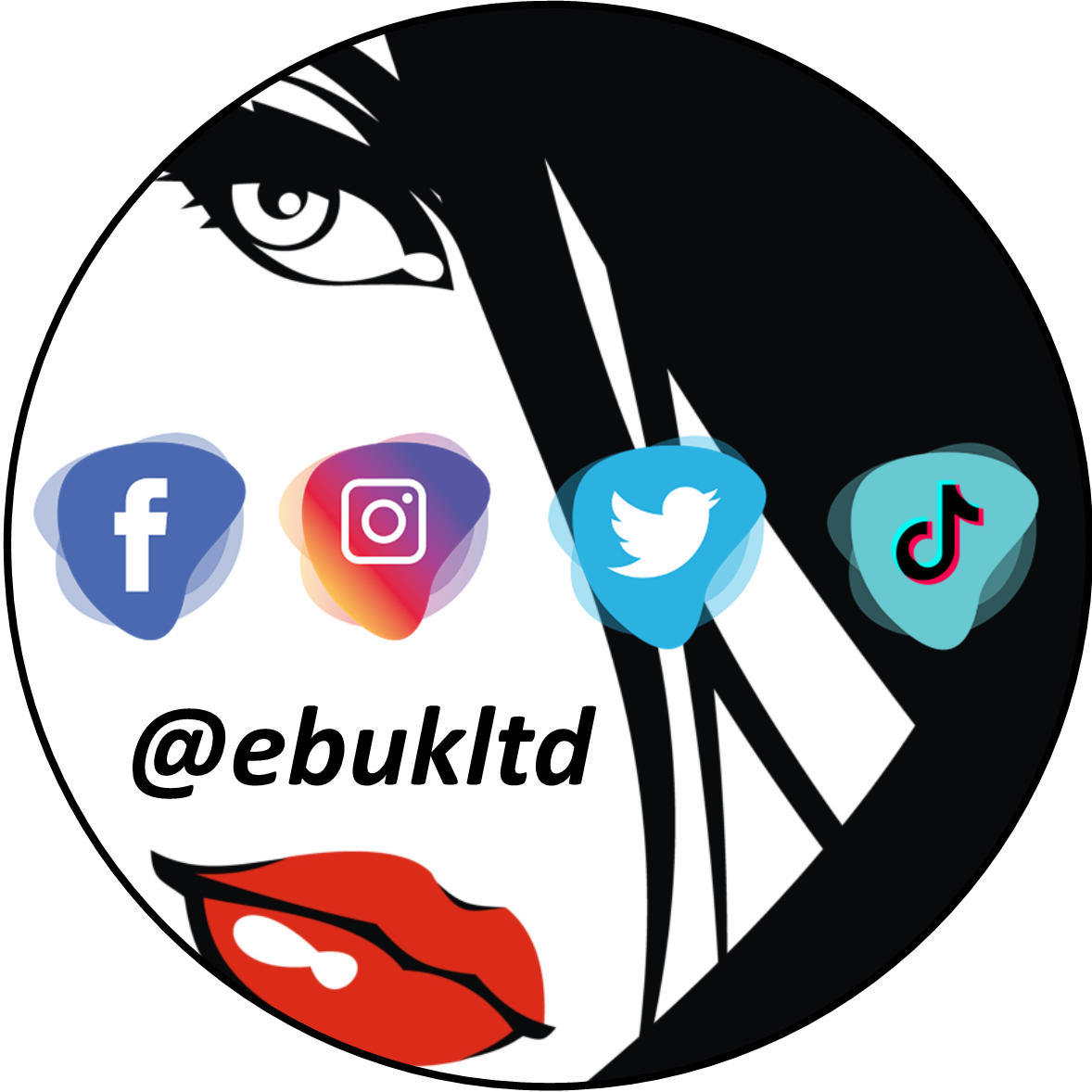 I completed a Genital Piercing course last week with Ben. Honestly, this was the most informative course I've ever done! 1-2-1 as well so if you're unsure, he'll happily explain in detail for you. I appreciate the business tips too!! It's hard to find a piercer who genuinely wants you to flourish, this is why Ben is your guy!!
I was nervous at first. Ben reassured me and I'm glad I put my trust in him. I will forever be grateful for my opportunity to work alongside him.
Emma is really lovely too. She's in charge of the beauty courses which I most probably will do later on in my career. Both Ben and Emma make you feel so welcome. Lovely people and a beautiful team.
Thanks again for the lovely hospitality, encouragement and I appreciate the help.
If you're looking to broaden your business, look no further!! 💜💜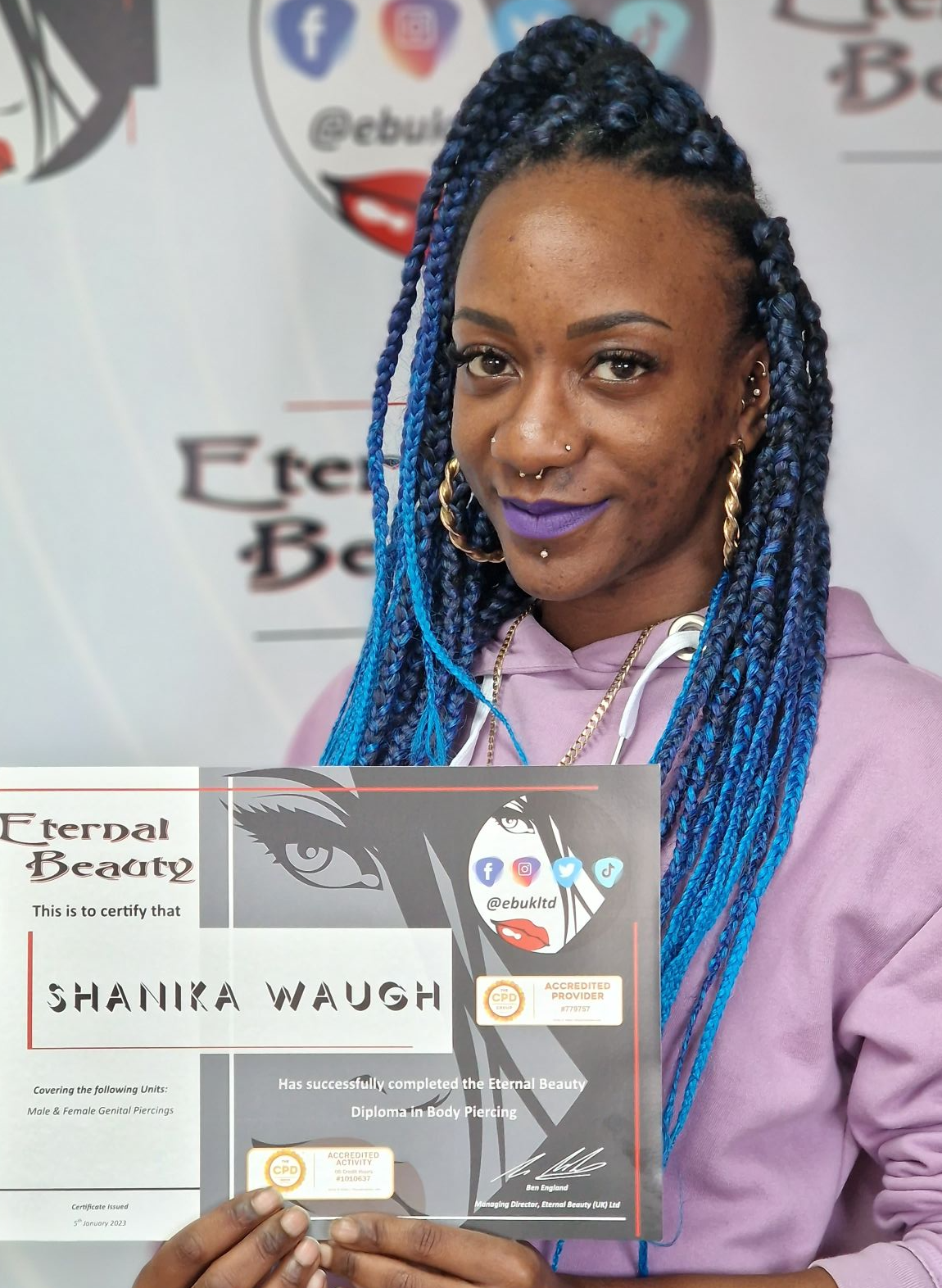 Bristol
Instagram: @PiercingsByShan_
Very happy with the course, was able to complete within 24 hours.
Great for a fast track advanced course, beginners may need some real life training too if they have never performed any needle work. 🙂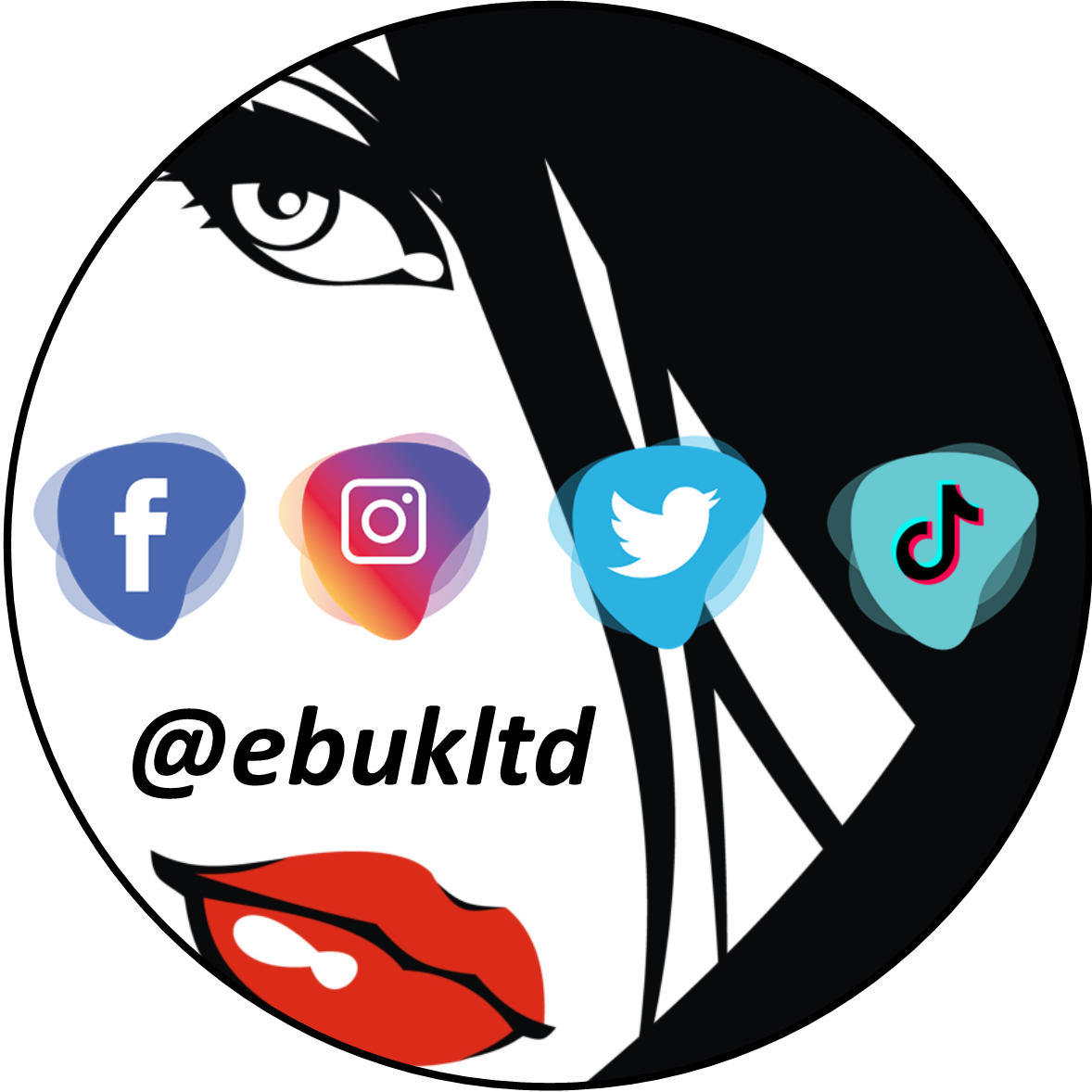 (Scar Camouflage Online Course)
This online course is full of information which was so helpful in refreshing some previously learnt knowledge, that I didn't know I'd forgotten!!
Easy to follow and relevant to scar camouflaging...this gave me the extra knowledge that I needed.
Following this course, I feel very confident in adding this to my portfolio. Ben and Emma know their subjects well and are both very professional and friendly.
I would have no hesitation recommending them to other people. Many thanks to you both, Sharon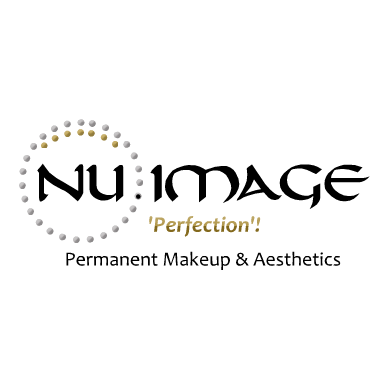 Nu Image, Weston Super Mare
(Scar Camouflage Online Course)
Emma was an amazing instructor, making me feel at ease immediately.
Everything ran smoothly and efficiently, covering everything, and I was encouraged to ask questions.
The informal atmosphere put me at ease. The chance to ask a million questions! Emma was able to either answer or find answers to all my questions.
she is very knowledgeable and approachable. She went above and beyond, and listened to my opinions/thoughts as well.
Would definitely recommend! Ben and Emma work so well as a team, it really shows in their work.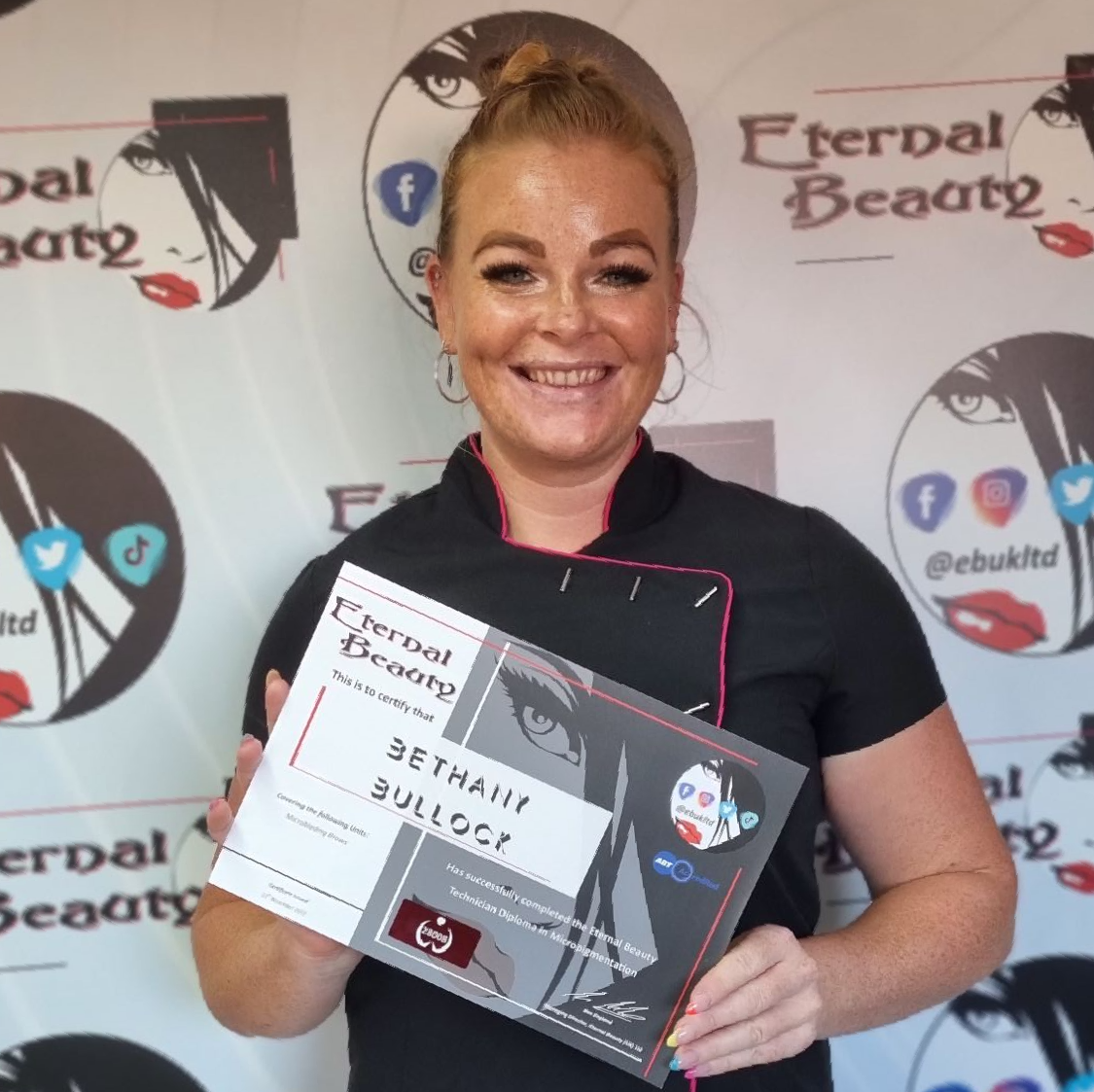 After recently completing a body piercing course with Ben, I highly recommend Eternal Beauty, friendly, informative and professional.
Ben and Emma are amazing people who have hearts of gold
Weymouth
Facebook: J'adore Beauty & Aesthetics Ltd
Ben and Emma were friendly and professional from the start.
A very informative course with lots of helpful course materials to take away with.
I would recommend Eternal Beauty and their courses to anyone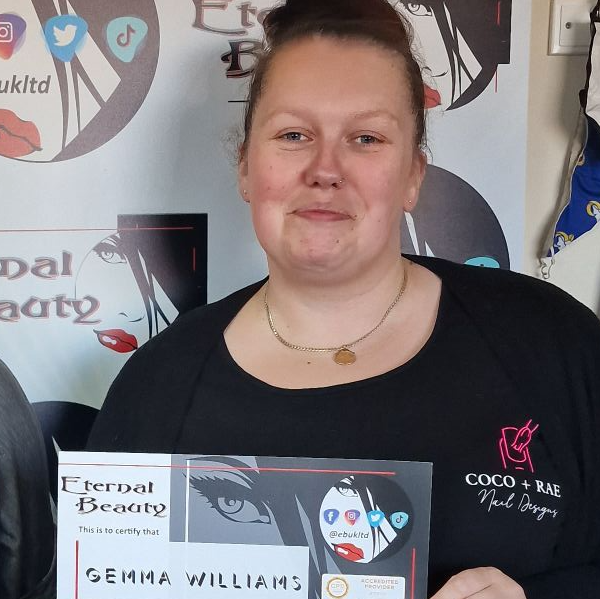 Weymouth
Facebook: Coco + Rae Nail Designs
I had an absolutely great time training in Body Piercing at Eternal Beauty with Ben and Emma.
Very informative, in depth training.
I came away confident to start my piercing career. Ben and Emma are very friendly, knowledgeable and passionate about their work, 5* training, highly recommend!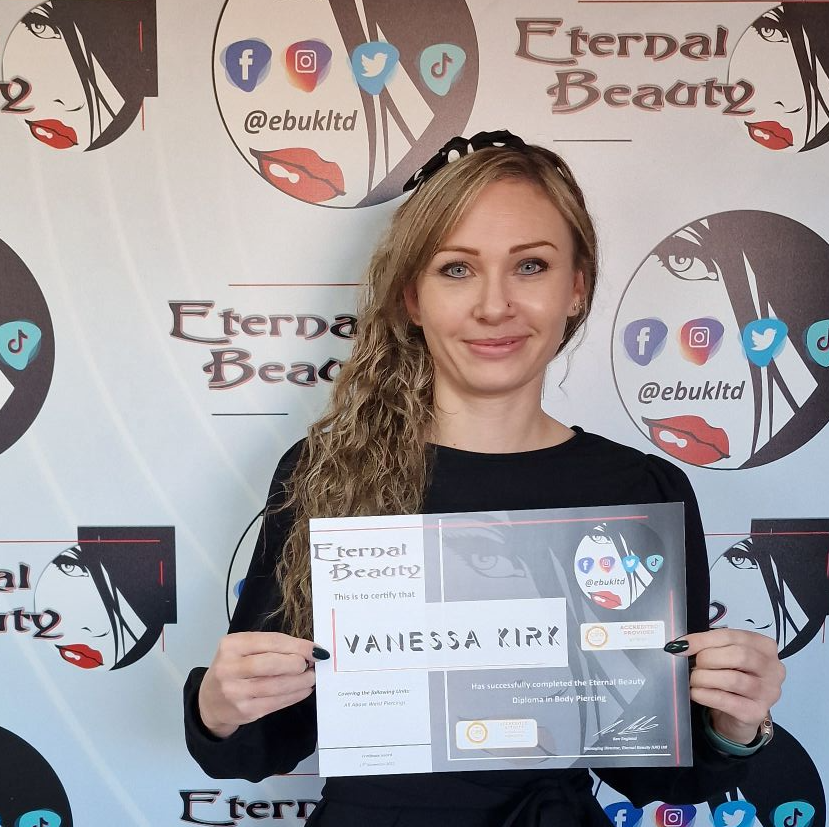 Facebook: Body Piercing Honiton
I have just completed the piercing course with Ben and can I say it was an excellent course, I would highly recommend to anyone who wants to start their piercing career who would like to improve or learn new techniques, absolutely brilliant , informative, friendly,relaxed atmosphere and one to one tuition.
The Piercing Parlour, Worcester
www.jacksshackworcester.co.uk
Facebook: ThePiercingParlour
Instagram: The Piercing Parlour and Jack's Shack Tattoo
I would really recommend doing the piercing course if you would like to become a piercer. It's super useful and instructive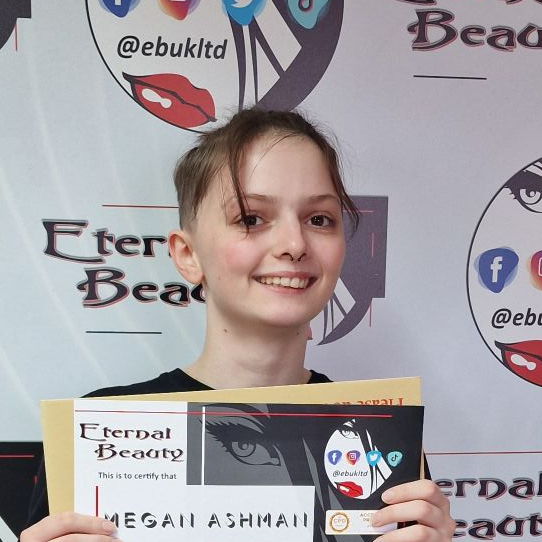 I took Lip Blush, Powder brows and eyeliner course.
Emma and Ben where excellent from start to finish. Very accommodating and able to advise on best techniques and tips.
Very easy to get along with, which meant learning was relaxed and not prescriptive.
I would highly recommend Eternal Beauty. I came to them originally for 121 bespoke microblading training and have come back for this course as I learnt more in that 1 day course than I had on my original course! Thank you both
Defined by Linda, Bristol
www.definedbylinda.com @Definedbylinda
Ben and emma are amazing couldnt reccommend them enough , very professional , informative and a relaxed environment.
I will definitely be back :)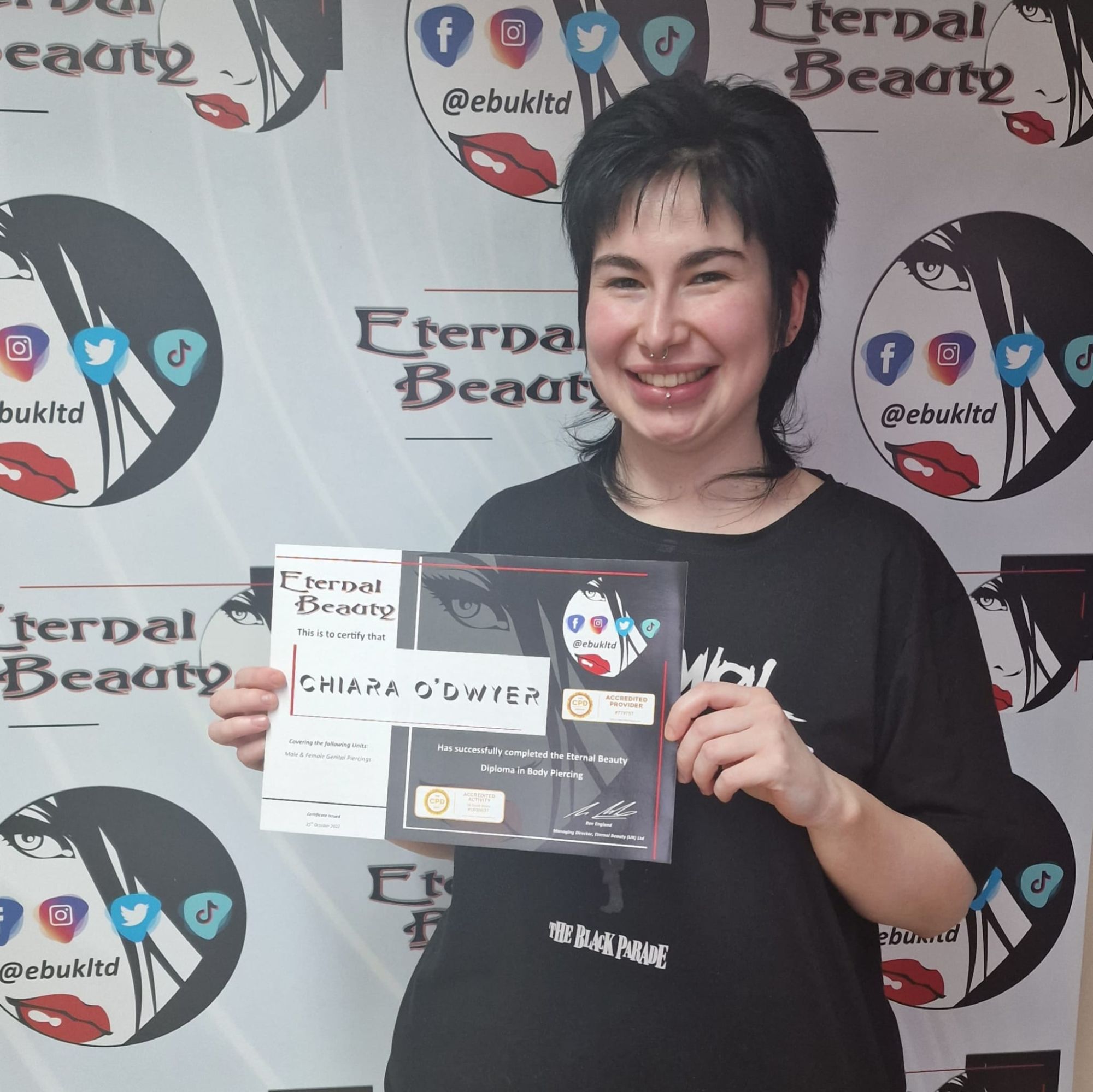 I had such a fantastic time with Emma and Ben at Eternal Beauty.
I did a 3 day body piercing course and I couldn't recommend them enough. Professional while friendly.
Ben was so patient while teaching me making sure I 100% understood what was being taught. He has a calming nature that really put me at ease. I was able to ask any questions that I was unsure about, I felt so comfortable.
They bent over backwards to assist me in every aspect over the course of 3 days. They really went above and beyond and I am delighted I chose Eternal Beauty for the start of my body piercing journey.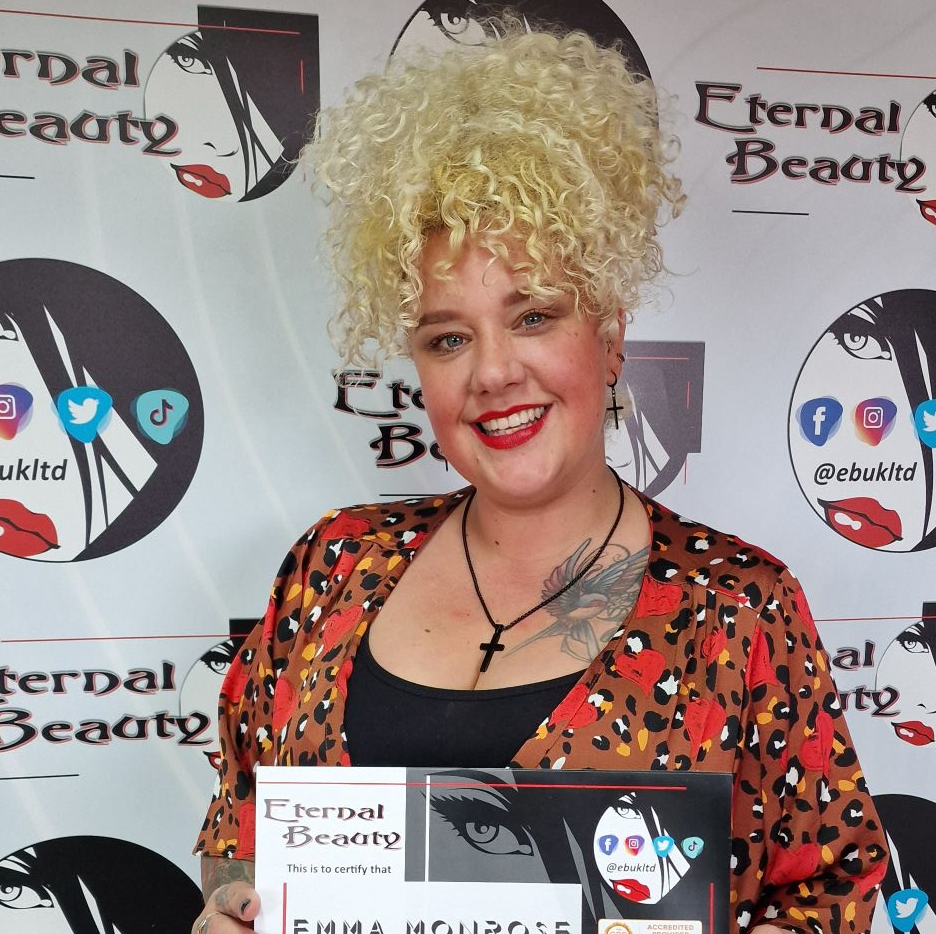 I attended a training course in Permanent make up on eye brows. The two trainers, Emma and Ben, were highly experienced, and inspirational. They have given me the confidence, knowledge and skills that I need to successfully deliver these services in my salon. Highly recommended!
Ben is a very knowledgeable instructor and manages to cover everything that is needed in a clear and precise manner while keeping the feel of the class relaxed.
No question is a stupid question. Great courses run by great people.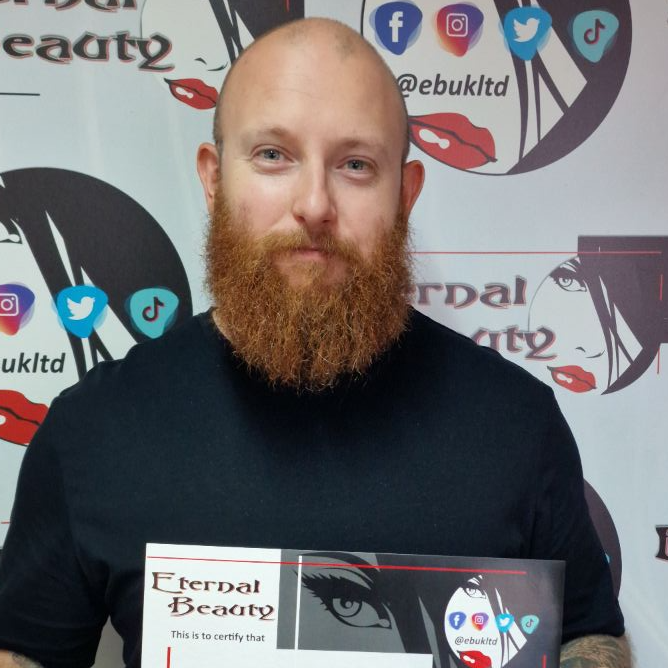 Would highly recommend completing the 3 day piercing course at Eternal beauty with Ben. I have just completed mine and I am so glad I didn't go anywhere else.
Ben went into every detail that I needed to know for the course, answering / covering anything I might of had a question for. Ben made me feel comfortable & ease on the day of the practical. Doing something new is always nerve wracking but Ben is very reassuring, will help you overcome the nerves which is great.
Although Ben was running the course, Emma was still part of the positive experience. As she is very chatty / friendly, making you feel at ease also and will also give you advice or answer any questions you may have.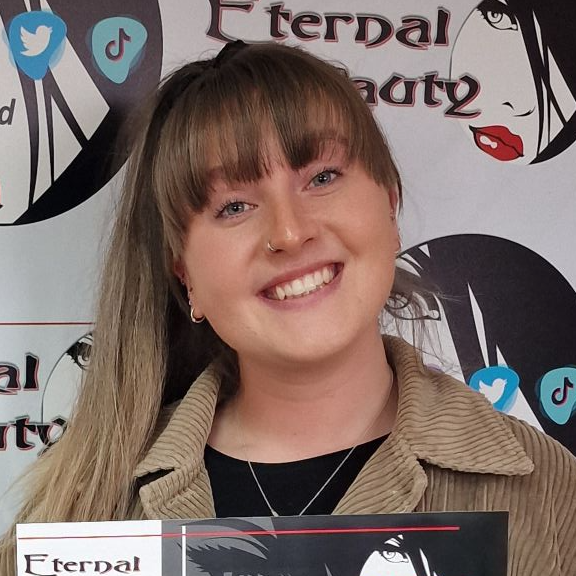 Ben is a great piercing instructor with a positive and supportive attitude. He has supported me through the course and after the course. He is happy to answer all your questions, wether it be about piercings themselves or how to run your business afterwards.
I found everything very informative and thorough. Both Ben and Emma are happy to go the extra mile to insure you get the best learning experience, I couldn't have asked for a better start to the industry.
Had the best 3 days learning microblading and powder brows with Emma.
She put me at ease, was patient and friendly and very knowledgeable.
Always happy to answer my questions and gave me confidence to work independently. A great course I loved it 😊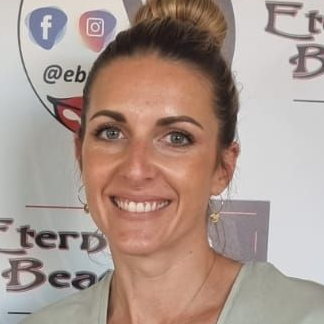 Brilliant course. Thank you for the piercing course. Ben really took his job seriously and helped break everything down to me. Piercing ain't easy but the support was great.
I travelled for over 5.5 hours for this course and it was utterly worth it. The trainer was engaging and knowledgeable. He ensured I was informed and comfortable throughout. I love the fact the training was on a 121 basis. Thoroughly recommend.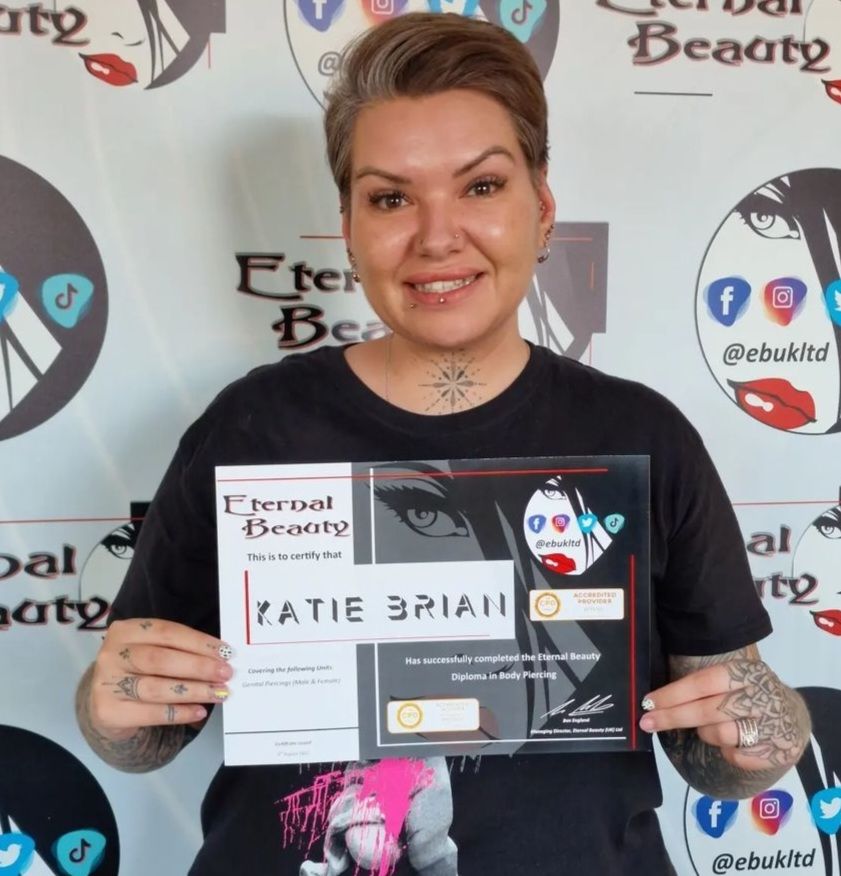 Completed the genital piercing course with Ben at Eternal Beauty. It's the best course I have ever been on, Ben is straight to the point, while filling you with lots of confidence and helpful information.
Right from the start Ben was fast at emailing me back and informing me what I needed to book on the course, from then arriving at the course, the course was on time and ran smoothly, really good having 1 to 1 training with models provided. Ben was very attentive and kept asking if I understood and if I had any questions, he's a very knowledgeable piercer.
I'm a piercer already and I picked up some good tricks from Ben about how to manage clients etc. From finishing the course Ben has stayed in contact and I know he's just a message away if I have any additional questions.
The course location is excellent also, in the town centre with plenty of free parking and cheap hotels near by. I'm from 5 hours away and I would definitely return all the way to Taunton to carry out future courses (if required) at Eternal Beauty.
The course price is also affordable, the cheaper price for the course doesn't reflect the quality, the course quality is excellent, again the best I have been on, the price is great (some courses just rip you off on price where at Eternal Beauty seems to be fair) 10000% recommend anyone wanting to train with Eternal Beauty!
Thank you so much Eternal Beauty UK ! And a huge thank you to Ben himself.
The team at Eternal Beauty do a range of beauty courses including piercing. I spent 4 days working with Ben to achieve my qualification, this included theory followed by the practical. Going into a course can be overwhelming as you don't know what to expect but I can happily say that Eternal Beauty makes you feel more than welcome and makes sure you are comfortable and excited to learn.
Ben helped me through the whole course and I wouldn't have wanted anyone else to have taught me. The course was 1-1 the whole time and therefore I was able to ask any questions when needed and felt comfortable to do so. To be able to relax and have a good laugh and come with amazing results was the best experience I've ever had.
The week was life changing and I'm so happy I did it. I'd highly recommend Ben, and his partner Emma, for any beauty courses and I hope I will see them again in future!
Thank you to both of you for an amazing experience. See you again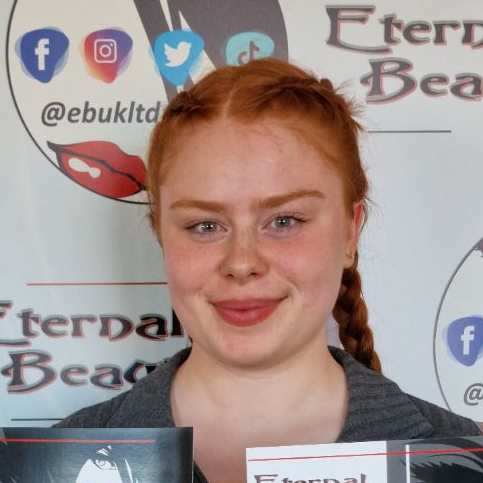 Belle de Jour Salon at Tempus, Exmouth
Would highly recommend Eternal Beauty. I done a piercing course with them, highly informative, professional and welcoming. I will be doing more courses with them in the future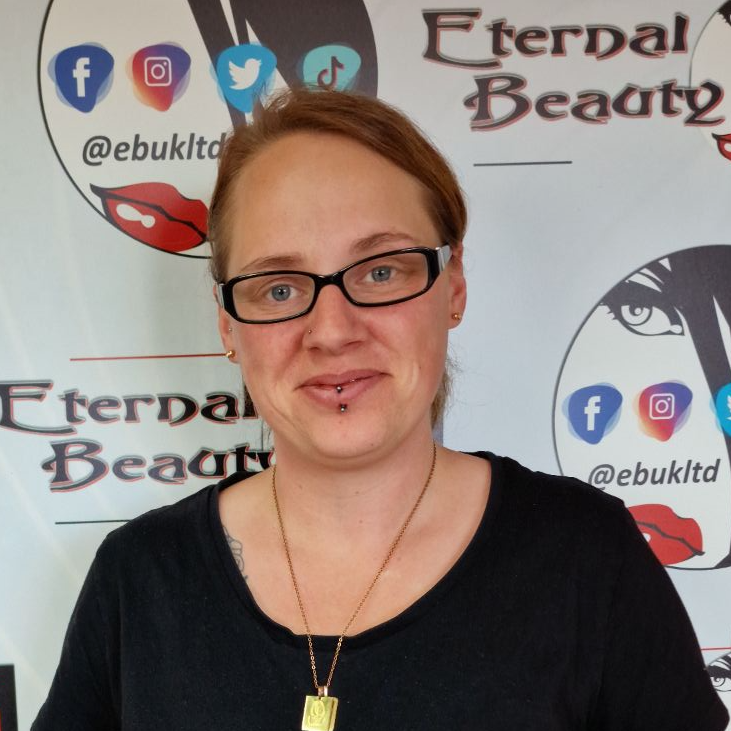 I felt that this for me was the best choice for a piercing course.
I feel happy and confident about my time on the course and about becoming a very good piercer now and in the future.
I enrolled on the piercing course which was taught by Ben. I had a brilliant time, the course material was very informative, Ben was very patient and let me ask lots of questions. I would recommend this course for anyone wanting to become a body piercer.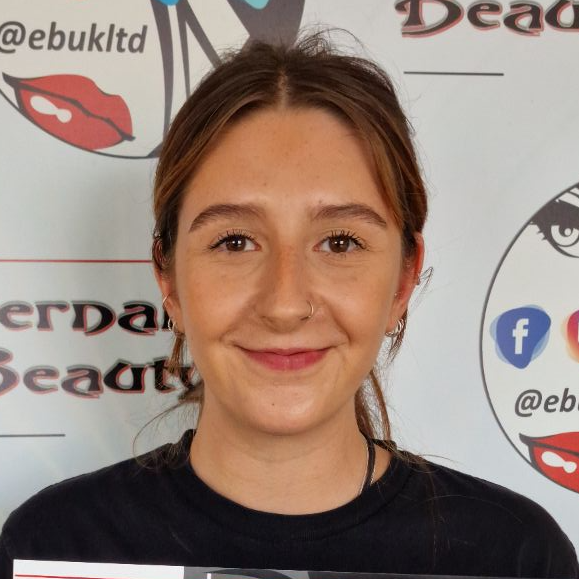 I did a body piercing training course with Ben at Eternal Beauty and I'm so glad I chose them to train with. Ben & Emma were inviting right from the start, and I felt comfortable around them both, they are a great couple!
The course was 1-1 basis and this was a huge factor to why i chose them to train me.
There isn't a thing Ben can't tell you when it comes to piercing. His knowledge is vast and he shows a true passion for his career. The course was informative and fun. The salon is spotless and the kit I purchased was great.
Since I trained the guys have been so quick to answer any questions I've had! 100% recommend Eternal Beauty for course!
Thankyou Ben!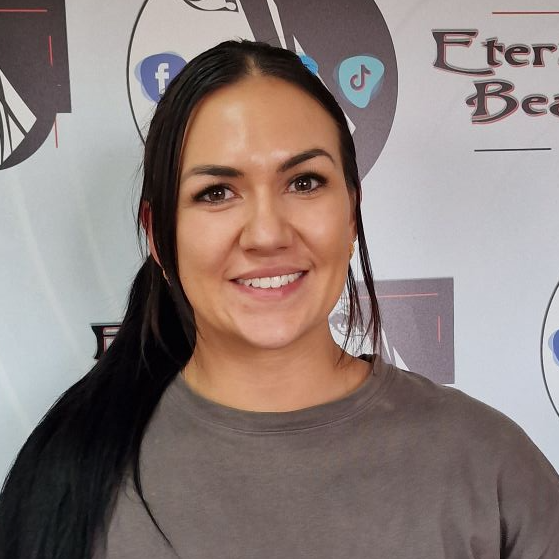 I done the body piercing course, Absolutely amazing course I would highly recommend the course to anyone, the tutor Ben was fantastic very patient and caring, was able to answer all my questions. Will definitely be booking another course. 😁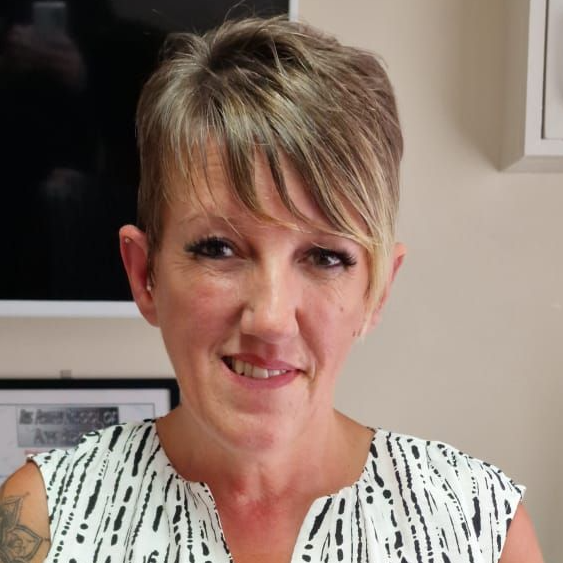 Had a really good 3 days here. Brilliant training from Emma. I received lots of support and encouragement.
Highly reccommend Eternal Beauty for your training courses. Easy to find,free parking and fab people.
Thank you to Ben and Emma.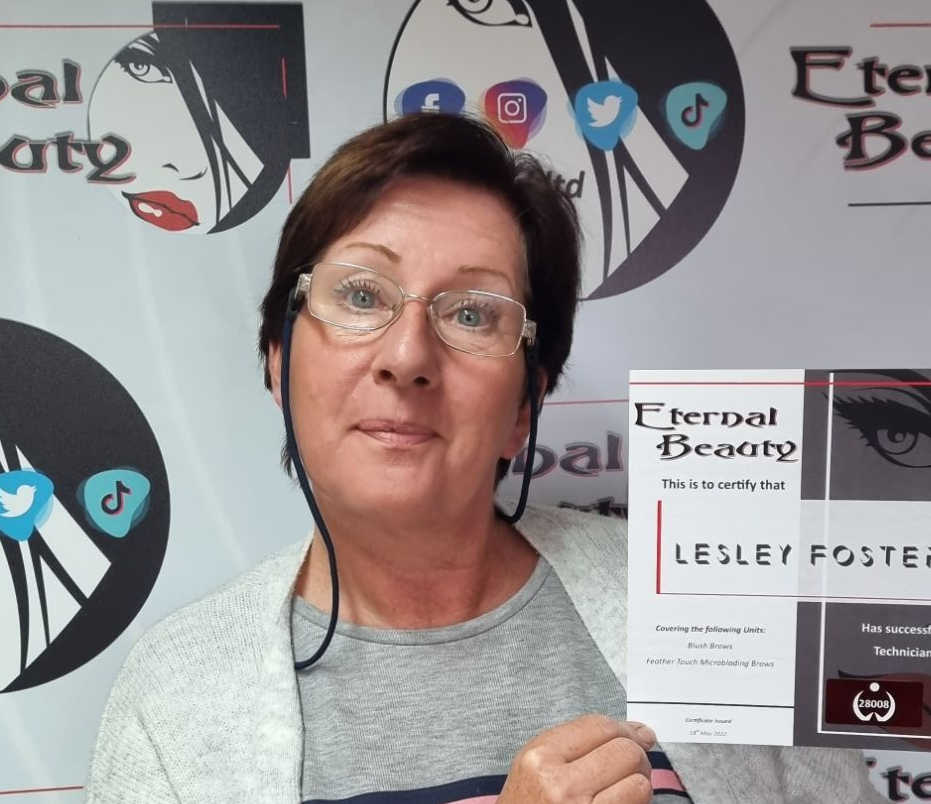 I highly recommend the piercing course, carried out by Ben.
It was very informative, taught in an easy to understand way and with lots of practical experience included!
I struggle to concentrate for long periods of time, and Ben was very patient and understanding. He delivered the course material in an engaging way and I found it a lot of fun.
Ben and Emma were both really friendly and offered lots of support. I am so happy to have completed this course, its provided me with a fantastic base from which to continue my learning and move into professional piercing. Thank you Ben.
I am still completely buzzing and actually so proud of myself for finally doing a course I've been wanting to do for so long!
Ben at Eternal Beauty UK - thank you so so much for pushing me beyond anything I thought I could ever do (mainly piercing tongues)
Right from the getgo you were very informative and filled me with all the confidence I never knew I had. Hands down one of the best courses I have been on!
Now to put everything you have taught me to good use!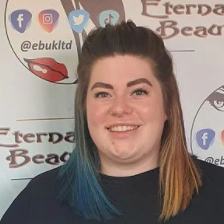 AMR Beauty, Bridgwater
Facebook: AMR Beauty
Instagram: AMR Beauty
I did my Microblading course and Piercing Course with Eternal beauty.
The course was very enjoyable and thorough, The whole team were fantastic- I even treated myself to a piercing.
Ben was very professional and made me feel relaxed prior to the procedure.
five star 1-1 Taining from Eternal Beauty, thank you Ben and Emma for giving me the best learning experience and going above and beyond.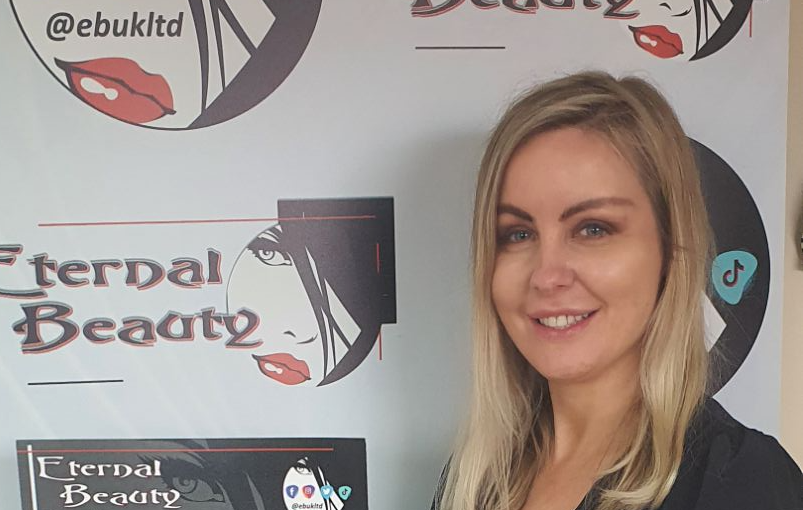 Neverland Studio, Launcstone
Facebook: @neverland studio-paradines aestetics
Amazing training.
Both Emma and Ben are so welcoming and I would highly recommend.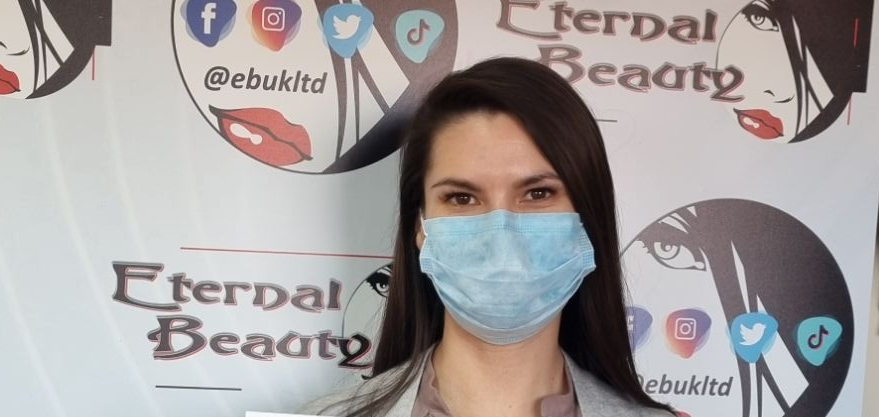 Ostara Wellbeing, Woodbridge
Instagram: vicki_ostarawellbeing
Thanks so much for your very valuable training.
I really enjoyed it, and appreciated that you made it fun!
Ben and Emma are both professionals and friendly. Thank you for your wisdom, experience and personable presentation.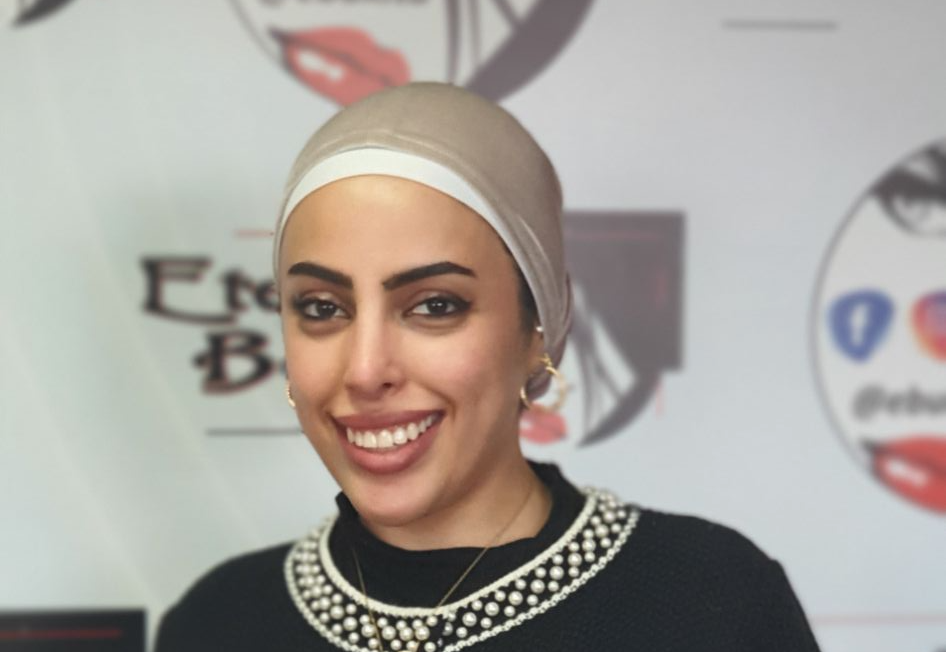 I trained with Ben last week in genital piercing, he was very friendly and responded to my enquiries in great time.
The course was great value and very informative.
Definitely recommend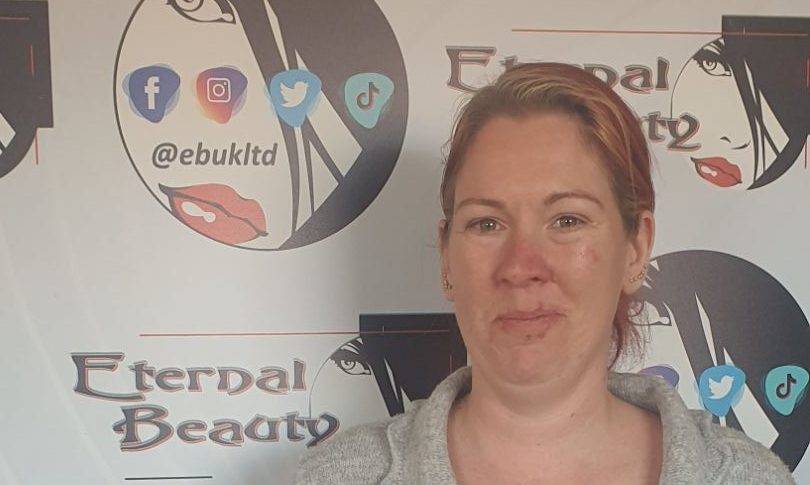 Bespoke Beauty, Bristol
Facebook: @bespokebeautybristol
I did the 5 day course with Eternal Beauty which included microblading, ombré brows, lip blush and eye liner.
Before commencing the course I was in touch through emails and never had to wait more than a couple of hours for a response. I really enjoyed the course. Emma was my trainer and she is just brilliant, she instantly makes you feel relaxed and at ease, you don't feel rushed and she finds a way that works for you.
Since completing he course she is always at hand to answer any questions I have. I'm so pleased I went with Eternal Beauty, would highly recommend and will be going back in future to do further courses. Thank you so much xxx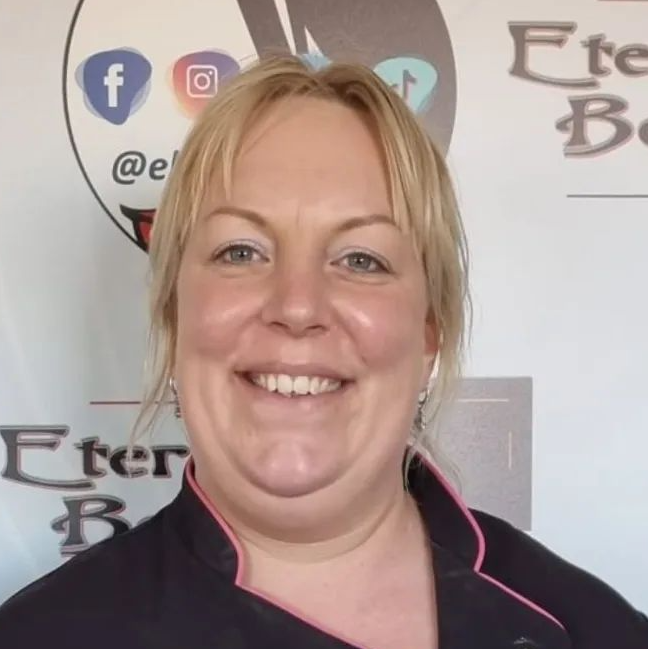 Can't recommend Eternal Beauty enough! From enquiry to finishing my course Ben and Emma couldn't have been more helpful in my journey to become a body piercer. Ben was extremely thorough in his training, talking me through everything I needed to know and answering all questions I had. He was very reassuring when it came to the practical side and with his advice, meaning I felt confident and able to carry out the piercings on the models.
I have learnt so much from Ben and his training course that I will be highly recommending him to anyone wanting to take up body piercing. Ben and Emma are two of the nicest people I have ever met, and have continued to offer me help and advice since finishing my course. They are so friendly and welcoming and not only did I learn so much I had a great week with lots of laughs, oh and Ben makes a cracking cup of coffee ☺️
Thankyou so much again Ben and Emma you guys are just amazing!!!
Just finished my training yesterday and I can not thank you guys enough.I have been in this industry for 15years and this is the best, thorough training I have ever had.
The kit was exceptional and had everything and more, the colours that where provided exceeded expectation, the trainer didn't miss a thing. Kind, relaxed, highly detailed, full of knowledge.
Iv never finished a course feeling confident, with eternal beauty I do.
Thank you again x Josie x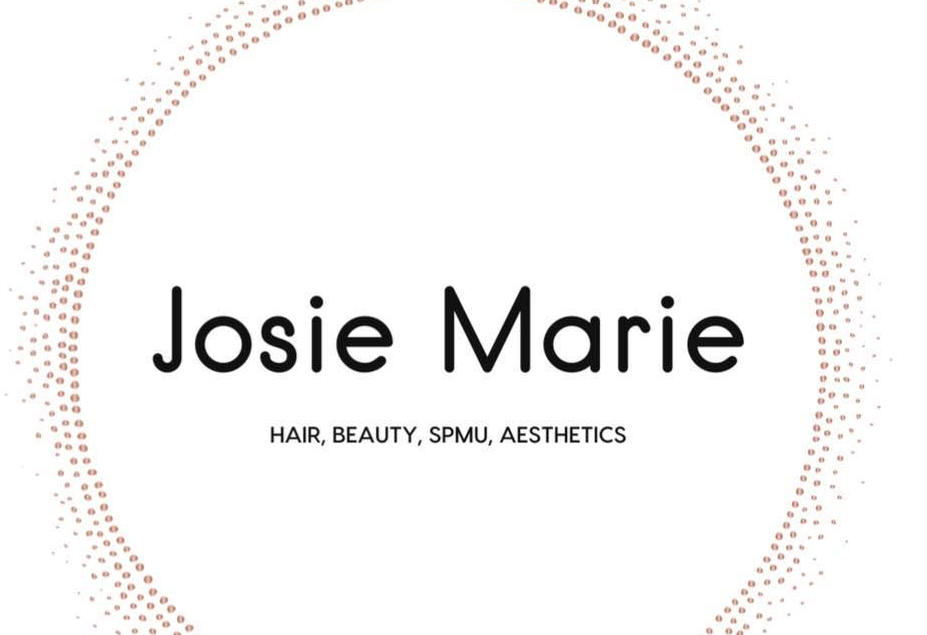 Josie's Hair Beauty and Microblading
I would 100% recommend Eternal Beauty UK.
I order my products for microblading and they provide great results. I then found on their site that they offer 1 to 1 training at amazing prices including a full comprehensive kit, so I took the plunge and booked the Ombré Powder Brows masterclass course and it was such an amazing and informative day!
I did not think I could learn so much in 1 day. And what was even better was the trainer travelled to my beauty clinic!! I could not believe this was a thing.
To anyone considering training in SPMU - Eternal Beauty will not let you down. Big thankyou.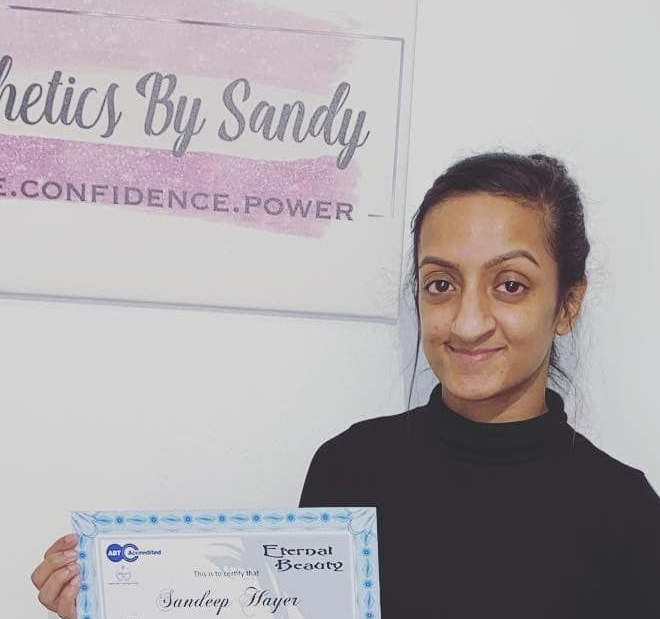 I received top class training at Eternal Beauty. The full PMU course was very informative, with opportunities to work on models for each type of treatment, after working on the practice skins and it was a real bonus that they were able to schedule the training to fit around my other commitments.
The course represents very good value for money and the whole team are lovely and make you feel welcome. Highly recommended and I look forward to returning for additional training in the future. ⭐️⭐️⭐️⭐️⭐️
Attended the piercing course with Ben. All three days were highly informative, interesting and full of demonstrations and live models.
Ben goes into great detail on each piercing and ensures that you're comfortable and confident in all areas.

Absolutely loved it and would highly recommend Eternal Beauty (great team!) and Ben, already piercing 3 days after attending the course and feel fully equipped and confident in doing so.
Thanks again!
"Today I had Blush Brow training and I cannot recommend Eternal Beauty as a company highly enough.
They were informative and helpful on the lead up to the course, provided me with all information and it was explained fully.
The instructor was extremely knowledgeable I felt at ease from the get go, she was complimentary and encouraging with the help she gave and I'm so pleased I chose them as I know I will also get all the backing and support I need going forward for me and my business. ???? ????"
I had my powder brow, lash enhancement and lip blush training on three consecutive days at Eternal Beauty.
The courses were very detailed and well organised. The course instructor was amazing, she was very friendly, informative, supportive and encouraging.
There were lots of products available and the models were provided for each course to practice.
I completed the courses feeling very confident and ready to go. I would highly recommend Eternal Beauty for everyone!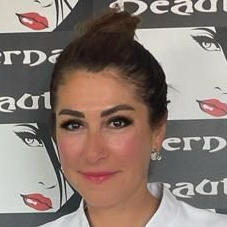 "I had a great informative 2 day course with Eternal Beauty and would highly recommend it!
Helpful friendly and very welcoming training centre. I will definitely return for further training.
Thankyou for making my course relaxed and stress free"
"My trainer was absolutely fantastic today in her training of blush/ombré brows, a really good days training! Model happy too!"
"Fantastic training day.
Easy location to find and parking.
Powder brow training 1 to 1 was brilliant. Focused on areas I was more concerned with and was very knowledgeable.
Answered all my questions and was very thorough with all aspects of training.
Kit supplied is fantastic! Has everything I need to complete at least 10 clients. Ongoing support after training is a great comfort! Thank you for a great day. X"
"I have been using Eternal Beauty as my supplier for over a year now and I recently attended their advanced lip line and lip blush course.
The training was taught by an excellent trainer who made you feel confident with the skills required to go out and do it alone.
I also met Ben the company director and it was nice to be able to put a face to the name.
Oh and to top it off they sorted my morning Starbucks and a cheeky McD's for my lunch 😬 x Thanks for everything! Andie x"
"Having been a semi-permanent make up artist advanced level for nearly 5 years. I wanted to source other suppliers and training providers.
After completing my Feather Touch Microblading training I can confirm it's highly informative and very professional . The course structure is amazing for beginner learners and experienced practitioners such as myself .
I have since recommended Eternal Beauty to a large wholesalers here in Wales to stock the products as I find them amazing.
I would also like to say my trainer who answered queries weeks after the training day great after support. Customer service is great when re stocking also."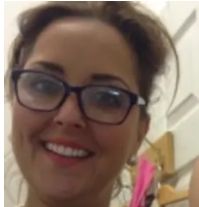 "When researching SPMU training courses I found that Eternal Beauty were one of the most cost effective, this of course drew me to them but also concerned me that the training would not be of the same standard as other courses (that were in some cases double the cost.)
This led me to research many other training courses and the industry requirements. I then sent a list of many questions to Eternal Beauty. I quickly received a response from the team answering all of my questions and dispelling my concerns.
I then booked the 2 day eyebrow course. I have since completed my course and can honestly say that I do not believe I would of received better training anywhere else.
Firstly the training at Eternal Beauty is one to one, most other courses offer group training. I personally believe that one to one training is imperative for this treatment.
My trainer gave me the necessary skills, knowledge and confidence to enable me to start my business, she is also going to be my mentor on an ongoing basis and get this... that's all part of the package with Eternal Beauty.
The team are amazing, they make the experience enjoyable as well as giving you all the knowledge and skills you need to be a successful semi permanent make up artist.
Get this for job satisfaction... my microblading model looked in the mirror and said "oh my god, I love them!" I felt so happy and proud that I created those brows! I will definitely be back very soon to train in eyeliner and lip liner - once you've trained with the best and all that!
Thank you so much Emma and Ben x "
"We can't recommend Eternal Beauty enough!
We have had training in semi permanent make up and Microblading, after already taking a course with another clinic in Microblading and having little confidence, The trainer came into the clinic and gave us the boost we needed we've never looked back!
she is patient, kind and fills you with confidence.
The academy sends out stock promptly and Ben is always on hand with advice if needed.
Highly recommended"
"I would thank Eternal Beauty UK for my full semi permanent makeup training.
My trainer was lovely and definitely knew her stuff!!
You get a starter kit pigments machines to set you off! I loved doing all the training; I was given Eternal Beauty's number to help after my first microblading course was terrible! So I did my feather touch with them first, then did lips eyeliner and brows.
I loved every minute of my training she helped with everything I needed to knew about semi permanent makeup.. even now if I need to speak to the team they will always get back to you !!
Thanks Eternal Beauty you and your team are the best!
If your thinking of doing any semi permanent makeup courses give them a call or email because I am glad I did."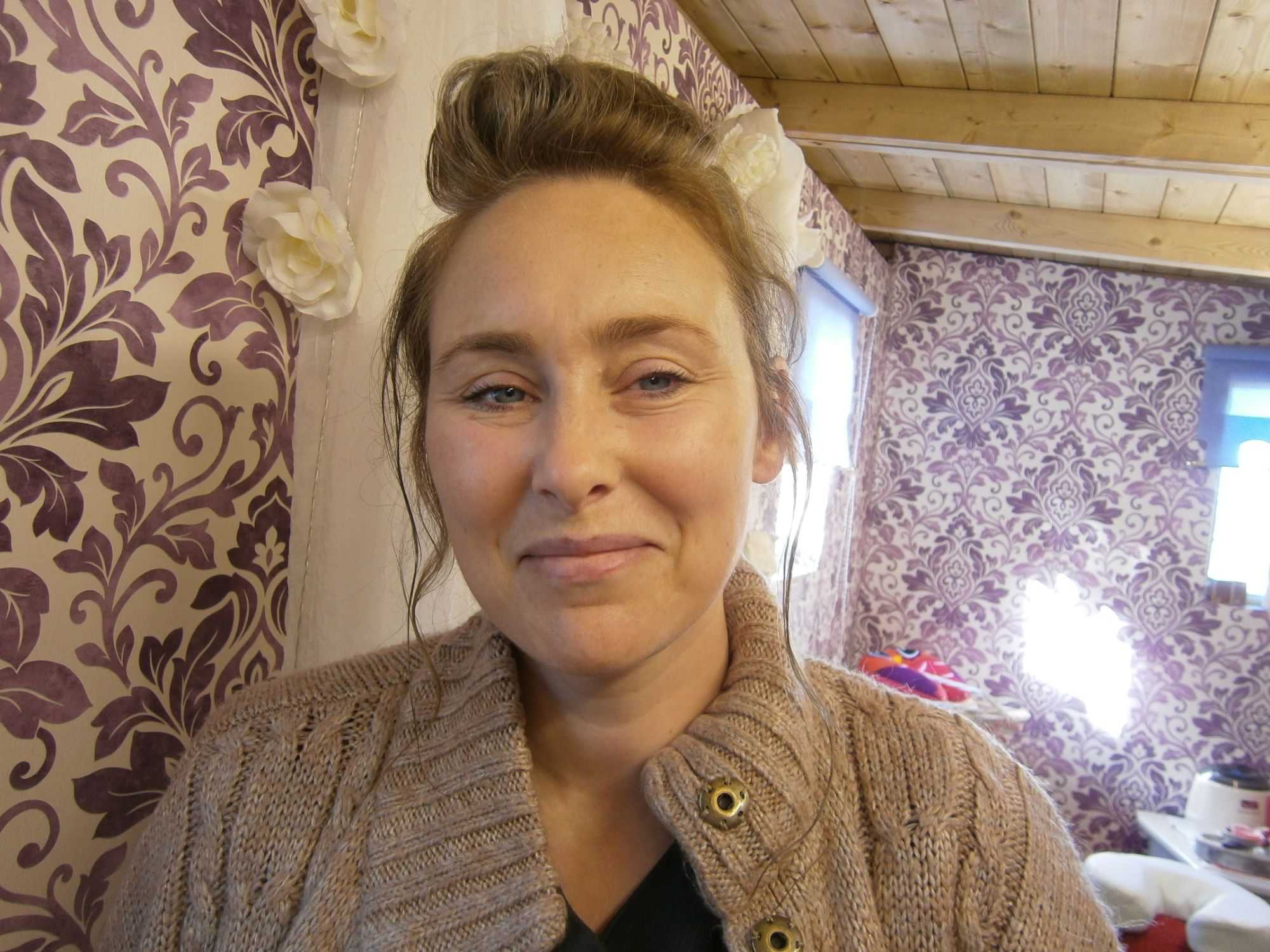 "Loved my 3 day course! After 3 days of training I really do feel confident to go out and carry out the procedure on my own clients, you also get everything you need in your kit to get you started which is great!
My Trainer was fab, so kind and informative. My trainer and really was lovely, I felt very comfortable around her and could ask all the questions I wanted! Really great course and highly recommend. Love that its a 1-1 course! You won't be disappointed."
"Had a wonderful time training today with this company, would recommend this company to anyone who wanted training in semi permanent make up or microblading!
My trainer went through everything with me, even though I'm quite experienced I learned a lot of new tricks and tips!
Thank you once again, it's been amazing :) xx"
"I would like to thank all at Eternal Beauty for a great day.
I chose Eternal Beauty to do the Feathertouch training because I already use Bio-Touch pigments for machine method permanent makeup and they are a product I like and trust.
The training was informative, helpful and very enjoyable. The trainer was extremely knowledgeable on the technical process and products used, and I would highly recommend the training.
Thank you again to all."
"I attended the 3 day eyebrow/eyeliner course, which was very intensive being provided with a fast all-round sound knowledge of the business. I found the trainer very confident and a knowledgeable hard worker, not only did she ease me gently into the course, I left feeling so confident in myself to start up my own business knowing I have her (and all at Eternal Beauty) as a life-line, should the need arise for advice.
I was lined up with my own model each day of the course enabling me to practice 3 different procedures with the guidance of the instructor at all times. I was very impressed with the professional set up and surroundings and would recommend to all to train with Eternal Beauty"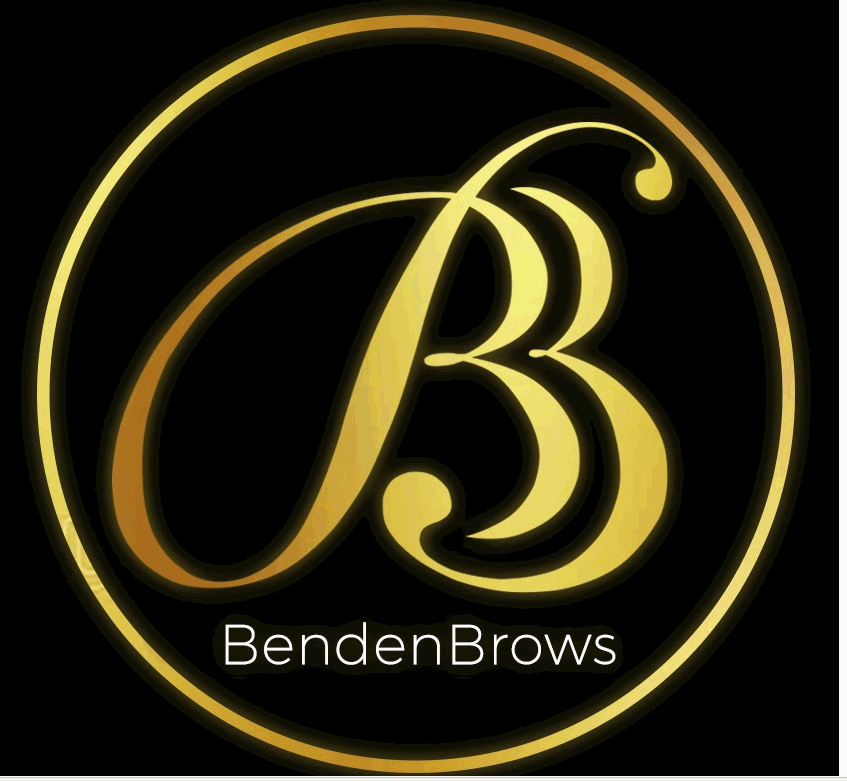 BendenBrows
Bristol, Avon
"My semi-permanent make up training with Eternal Beauty was excellent, they made you feel so welcome and at ease from the second you walk through the door.
They supply you with models to work on and offer any additional support even once you have completed the course.
Ordering products through Eternal Beauty is very easy and the products are with you by the very next day.
They also offer monthly repayments instead of having to pay the whole amount up front which makes it more affordable.
I couldn't recommend Eternal Beauty highly enough!!"
"The training course was brilliant! We thoroughly enjoyed it, very well set out, presented and informative. Much much much better than the other ones we have attended and we both walked away extremely confident in microblading!
The atmosphere was great, the instructors couldn't have been more helpful and welcoming. Just utterly fantastic! Really pleased and we can't wait to do the lips and eyeliner course with you."
"After looking at several companies over the past year and going to trade shows, I decided to do my training with Eternal Beauty. Not only was the training one to one but they made you feel at ease from the moment you arrived.
My trainer was brilliant, she was patient and answered every question without making you feel inadequate. After the course I feel confident in performing the procedures at my salon.
I would recommend this course to anyone from beginners to technicians who want to update/refresh their skills."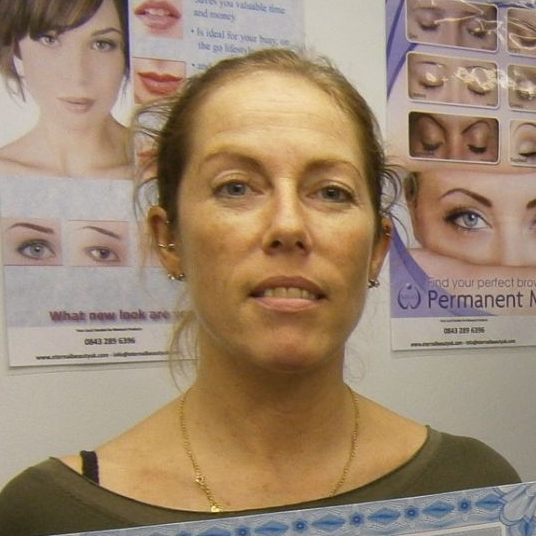 "I initially decided to do a training course with Eternal Beauty after speaking to Ben via web chat whilst I was on holiday, he was able to answer all of my questions and concerns whilst I was sat by the pool. I was given various information regarding different courses available and also feedback on what would be best for my business in regards to services and products I could offer.
My trainer was amazing and extreamley approachable as were all of the Eternal Beauty team. I would highly recoment them! I was also given my trainers contact details incase I needed a quick chat or even tips regarding cosmetic tattooing.
All in all this is a fantastic training provider!
Thank you to all at Eternal Beauty."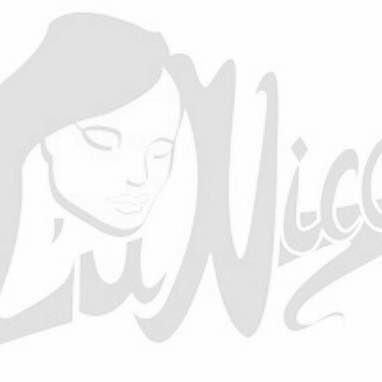 L'uNico - Peterborough, Huntingdon & Cambridge