Welcome to eternal beauty
Eternal Beauty (UK) Ltd is an Award Winning Training Academy & Biotouch PMU distributor
We cover all aspects of Micropigmentation & Body Piercing Training
We retail Micropigmentation & Microblading equipment, supplies and pigments; making us a one stop shop for all your micropigmentation & Microblading needs.
We offer quality products in the UK with outstanding customer service and all at competitive prices.
All of our training is ABT or CPD accredited and is carried out on a strictly 1-1 basis, or we have a wide selection of PMU (In person & Online) & Online Beauty Courses to choose from
lots of items NOW 50% OFF
Whatever treatments you would like to be able to offer, we can help. We teach PMU, including Powder brows, Ombre Brows, Combination Brows, Microblading, Lip Liner & Blush, Eyeliner as well as Scalp Micropigmentation, Areola Reconstruction and Scar Camouflage and microneedling as well as Body Piercing, Genital Piercing & Dermal Anchors.
It doesn't matter if you are a complete beginner, or a qualified technician looking to add new services, we have something to suit you. We have a selection of online courses covering beauty treatments, and PMU (all accredited by The CPD Group)
We believe that our courses are different; we include VAT in all our prices, as well as giving you a complete and very comprehensive kit with our Micropigmentation courses and having one available to purchase for our piercing courses
Our instructors have a wealth of experience and knowledge which they are able to share with you at a pace that you are comfortable with.
All of our Micropigmentation courses are accredited with ABT and our piercing courses are accredited with The CPD Group. All courses, regardless of sector are fully insured for liability and treatment risk and are carried out in our licenced, purpose built training studios at our offices in Taunton.
All our courses are also run on a 1-1 basis with our instructor, no exceptions. This means that you are not having to share your learning experience with a large group and you will have the undivided attention of the instructor from start to finish; it also means that we can be fully flexible with our training dates, as long as we have an instructor available then we can train.
We also offer a wide selection of online courses including beauty courses, & PMU courses including Powder Brows, Microblading, Scalp Micropigmentation & Scar Camouflage
We believe that this is how learning should be and like everything else that we do that quality is the main priority.
Click on the training categories below for more information
Micropigmentation courses
No previous micropigmentation experience or qualifications? Already qualified and looking for an advanced course?
No Problem.. We have the course for you
Do you want to offer Body Piercing, Dermal Anchors or Genital Piercings to your clients? Our piercing courses are available to complete beginners or trained piercers and covers everything that you need to know to add your new services.
We offer a wide range of online beauty courses all accredited by The CPD Group. All courses can be taken from the comfort of your own home and the required case studies done at your own pace
order online, or over the phone...
We dispatch all orders received by 2.30pm on the same day Monday to Friday and offer FREE DHL Next Day to the UK on all our items; other postage options, including Saturday services are available and can be selected at checkout.
You are able to read about all our Postage Services HERE
Want to get a micropigmentation procedure for free?
Why not sign up to be a model for one of our training courses?
One question that we are commonly asked is 'what pigment would best suit my client?' or 'what should I use to correct...?' Our aim with this tool is to help you find a pigment, or selection of pigments that would suit your client.
While it is not a definitive tool, or designed to replace proper training, it is designed to give you a rough idea of what pigment you may need
Start below, and click through the options to find the right pigment for your client
We are fortunate enough to have been featured in a few publications, and we thought we would share them with you here.
Click on an image to read the articles
Established in 2013, Eternal Beauty has quickly become one of the most trusted names in Micropigmentation both in the UK and beyond; We won the FSB Micro Business of the year for the South West region in 2019, as well as being a finalist in the Scale up Business of the year category. In 2023 we were selected as finalists in the UKHBA awards in the 'Education Excellence' Category
In 2020, we introduced Body Piercing training and in 2022 diversified into Online Beauty Training as well as offering online OMU training
Our company is built on great products, and even better service. We strive to provide the best possible customer experience, wether you are buying one pigment or taking a training course with us. We believe that our students are part of our family, and try to ensure that we offer the very best to them.
We are proud members of both the Federation of Small Businesses as well as the Taunton Chamber of Commerce.
We offer flexible finance and payment options for our in person PMU training courses (subject to t's & c's), as well as credit facilities for training academies wanting to buy supplies.
Our Piercing courses and online courses can be financed with Klarna or PayPal (subject to application)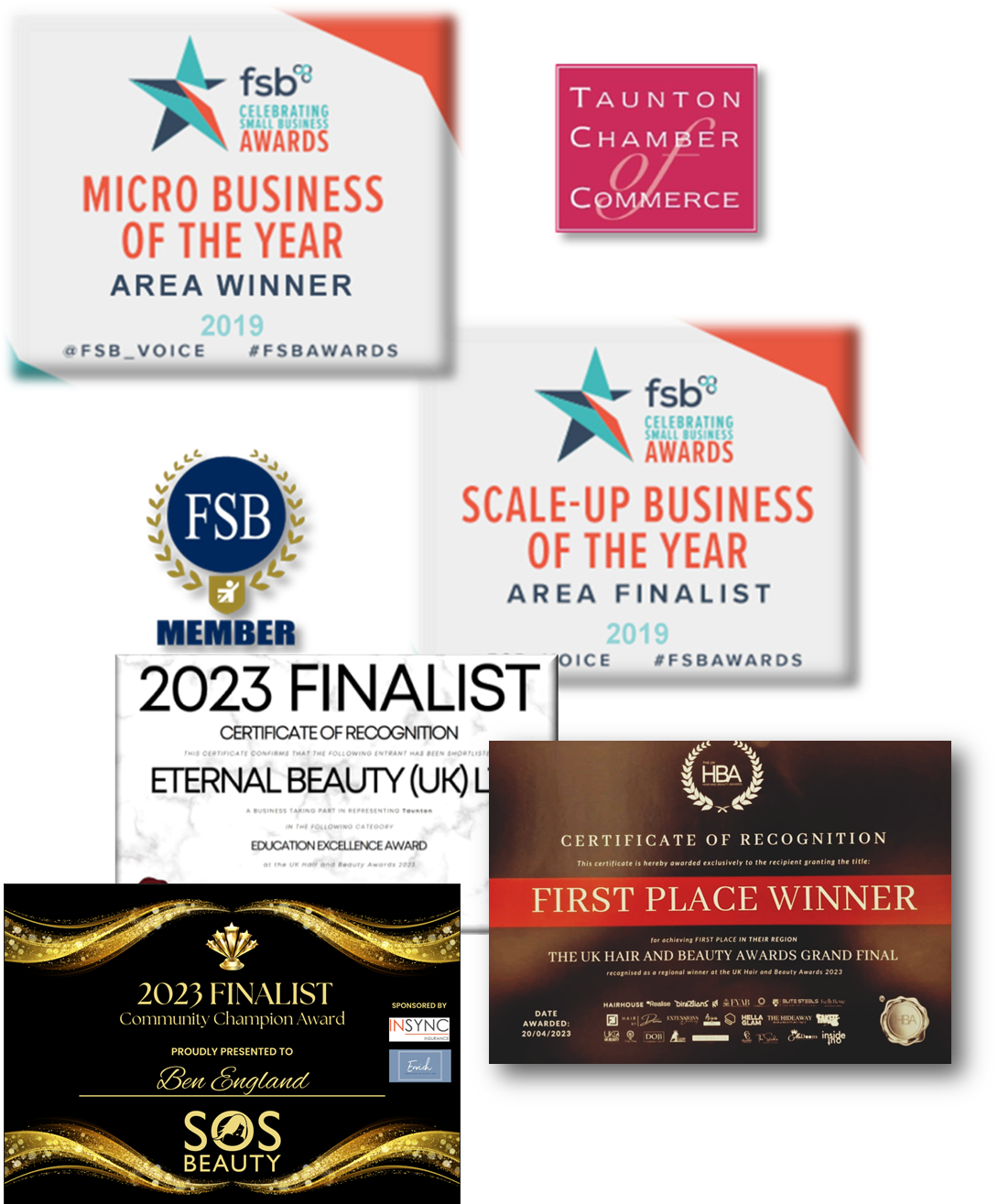 Founded in 1984, Biotouch, Inc. is now one of the leading manufacturers and trainers of semi-permanent and permanent makeup, permanent makeup machines, and accessories.
Since the very beginning, Biotouch has led the challenge of saving women from the time-consuming regimen of enhancing their beauty. Biotouch's unique approach combines 5,000 years of Asian makeup techniques with modern technology to create the finest permanent and semi-permanent makeup products available today.
Biotouch stresses ongoing research and development, leading the way in new techniques, chemistry and technology to produce the best products, service and training in the permanent and semi-permanent industry.